500 CLUB, JILLY'S & SINATRAMA
The 500 Club was an important place for both Frank and Dean. Frank played there in the late 40's and early 50's when his career and popularity was just so-so. 'Skinny' D'amato, the owner of the club (his niece, Terry, was a classmate of mine)booked and promoted Frank during this period. They became friends. Dean, as the story goes, met Jerry there when he filled in for another singer. Jerry was cutting up on stage during Deans act. According to the story, the crowd went crazy and thats how they formed their act. In 1962, the boys had a reunion of sorts at the club. Bill Rodstein, owner of the Philly club 'SINATRAMA', recorded the 4AM show and "GAVE" away copies of the performance(aka: "THE LATIMER ALBUM) to special customer at his Sinatra themed club. This time the "BOYS" were supporting their friend, Skinny. The club burnt down by the end of the decade. Jill's, what can I say. Jilly Rizzo was Frank's best friend and had this joint. And, what a joint it was.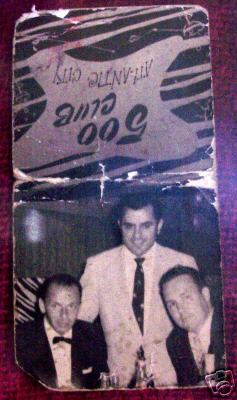 500 CLUB MATCHES W/BONUS CD
$120.00 $95.00 On Sale!
SOLD+++++++++++++++++++++++[95]Back in the day (the early 50's) the photo girls used to make match book souviners for the customers. This group was fortunate enough to have Frank pose with them. A rare find and will look great framed.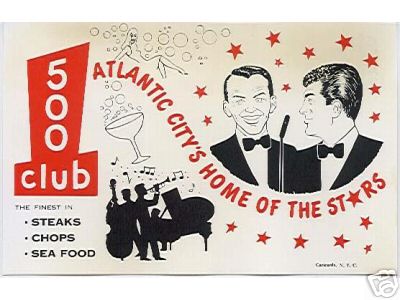 500 CLUB POSTCARD W/BONUS CD
SOLD OUT!!!!!!!!!!!!!!!!!!!!!!!!!!!!!!!!!(55)A rare original postcard (and FREE 'bonus' CD) from the place that started it all! What a time that must have been. This is in PERFECT, PRISTINE CONDITION. It's a regular postcard that they provided to guests during the clubs heyday. Match this up with the Latimer Album or 45, for a real ONE-OF-AKIND wall display.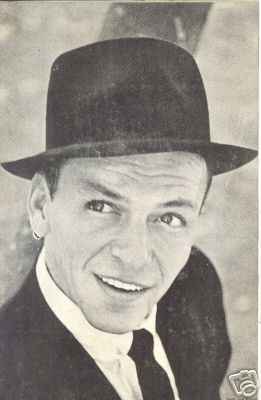 500 CLUB SPECIAL MAGAZINE W/BONUS CD
$55.00 $49.00 On Sale!
This 'limited edition' (5x8) 8 page magazine,( and FREE bonus CD) was produced by Frank Prendergast and Sonny Schwartz. It is full of black and white photos of Frank and friends at the club, and info for a "SPECIAL" engagement at Skinny's place. There is a two page spread promoting the film "A HOLE IN THE HEAD". JUST 1 COPY LEFT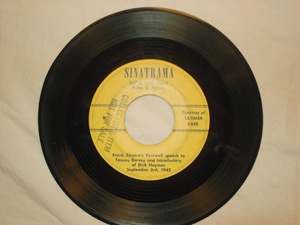 LATIMER 45
$150.00 $100.00 On Sale!
I know that you never saw this one. I have the LP, it was given to me by Bill Rodstien in 1965. I used to go to the Latimer Cafe(Sinatrama),on Friday nights. He had a juke box that only played SINATRA. What neat times they were. Anyhow this record is super rare. Side one is Franks farewell speech to Dorsey (dated Sept. 3, 1942) backed with a performance at the 500 Club in AC, July 26,1959. This was never sold, they were given out by Bill personally. Bill knew that I was under age, but was impressed that I was a FRANKFREAK in a era of the Beatles.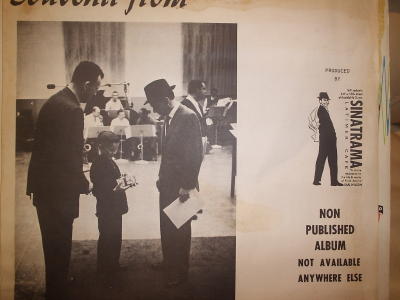 LATIMER ALBUM
$150.00
***DISPLAY ONLY NOT FOR SALE*********This LP, recorded at the "500 CLUB", 4AM show in August of '62. Is the one that started it all for both my collection and 'obsession, of Sinatra collecting.A gift from the owner of the Latimer Cafe aka "Sinatrama" It is the FIST piece of my "collectables" I got this one wet fall Friday night in 1965. On leave from the Navy, hangin' wit my Salphilly friends. We ended up the the Latimer Hotel bar, "SINATRAMA" We often stopped there. Bill, the owner , knew we weren't old enough to drink. But, he liked us cause all the other cats were were growing their hair and listening to that English crap.In the end, when I got out of the Navy, I grew my hair. But I still cought FRANK everytime he came to town.SINATRAMA closed it's doors in the early 70's and Bill Rodstein passed shortly after. I'm glad to see that there is still intrest in his "GIFT" recording to the world. He also used to give logo stickers in what else, orange. Where does the time go!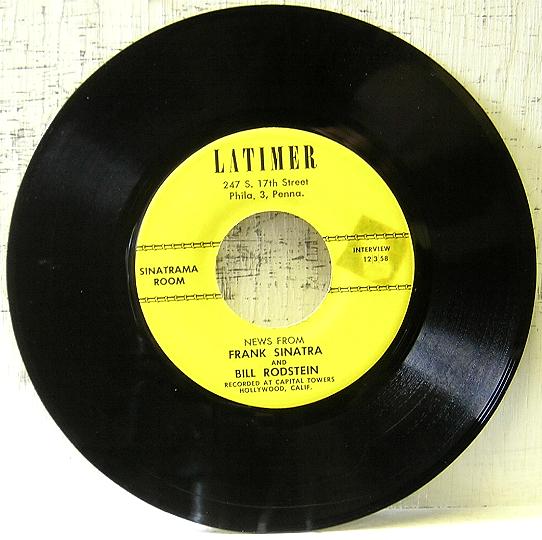 FRANK AND BILL INTERVIEW-LATIMER
$175.00
SOLD!!!!!!!!!!!!!!!!!!!GONE!!!!!!!!!!!!!!!OUTAHERE!!!!!!!! This was another example of how Frank loved his "FANS". This recored interview is just Frank and Bill Rodstein, the owner of The Sinatra Room in Philly, just talking. It was recorded at Capital Towers in Hollywood. A legitimate recording, on December 3, 1958. This is the only one of these that I have ever seen.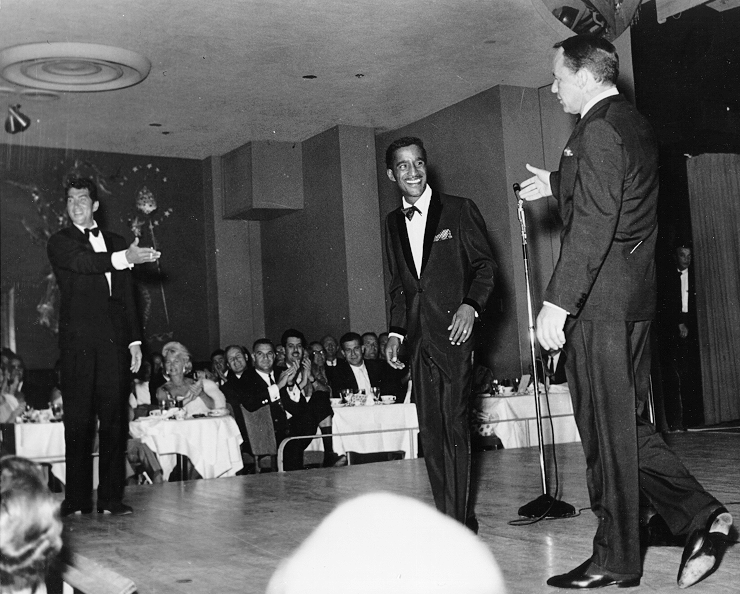 4AM SHOW at THE "500 CLUB" from ASSORTED RARE PHOTO W/FREE BONUS CD
SOLD OUT!!!!!!!!!!!!!!!!!!!!!!!!!!!!!![20]You are getting one (1) copy/photo of assorted (all different) photos of "the BOYS" performing and clowning around at the AC hot spot. Also comes with a bonus "RARE CD" and another bonus photo. Many in stock.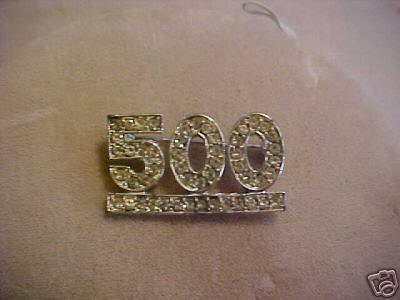 500 CLUB PIN w/BONUS CD
SOLD!!!!!!!!!!!!!!GONE!!!!!!!!!!YOU MISSED IT!!!!!!This 'rhinestone' pin was sold at the club. With it you get a bonus CD.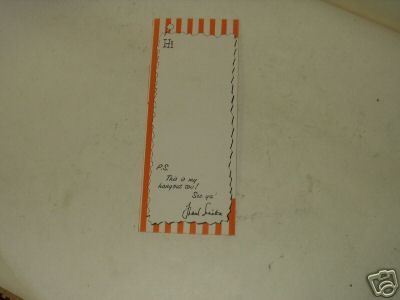 JILLY"S MENUE
$65.00
SOLD!!!!!!!!!!!GONE!!!!!!!!!!!!!!OUTAHERE!!!!!!!!!!!!!How many of these have you seen? This will "blow" your friends away. Mount this with the photo of Frank and Jilly, the matches....whooo! Too COOL! ****CLICK TO SEE MORE****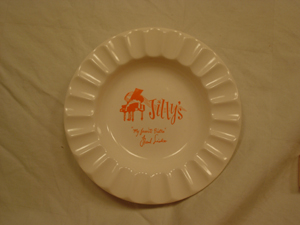 JILLY'S WHITE ASH TRAY
SOLD!!!!!!!!!!!!!!!!![75]This was never used, from the original "JOINT".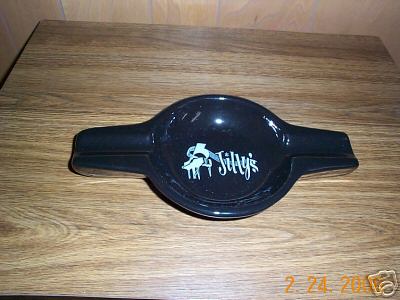 JILLY'S CIGAR ASH TRAY
SOLD!!!!!!!!!!!!!!GONE!!!!!!!!!!!!!MISSED IT!!!!!![90]This RARE item went QUICK!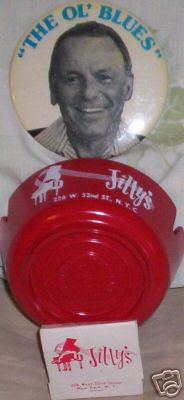 JILLY'S ORANGE ASH TRAY
SOLD !!!!!!!!!!!!!!![90]This was even rare back in the day. Franks signature and his slogan "MY FAVORITE BISTRO" as well as the address in white.This is real special!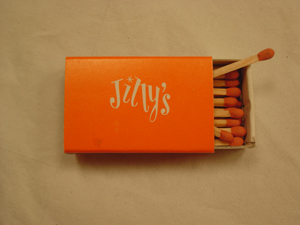 JILLYS MATCHES
$19.00
They're just matches, really cool matches.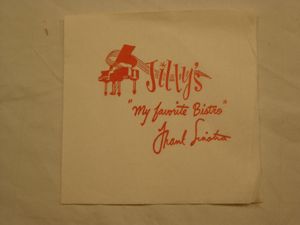 JILLYS NAPKIN
SOLD!!!!!!!!!!!!!!!!GONE!!!!!!!![11]From the original hangout.Only 6 left.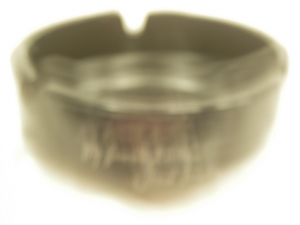 JILLY'S ASH BLACK TRAY
$0.00
SOLD#####################125 REAL RARE , THIS IS AN EARLY VERSION...THE NEWER ONES WERE ORANGE..Stolen from the original "JOINT". Sorry about the focus it reads in white "Jillys, my favorite bistro, Frank Sinatra" the back has the address on it. I guess, if you find it, your supposed to drop it in a mail box?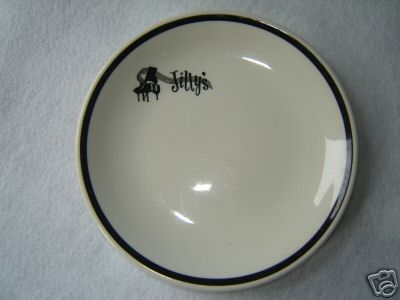 JILLY'S PLATE w/PHOTO
SOLD!!!!!!!!!!!!!!!!!!!!!!!!!![125]This rare 9" logo plate is from that popular joint in NEW YORK where they all hung out. Also included is an 8x10" photo of Frank and Jilly. Just chillen' in that joint.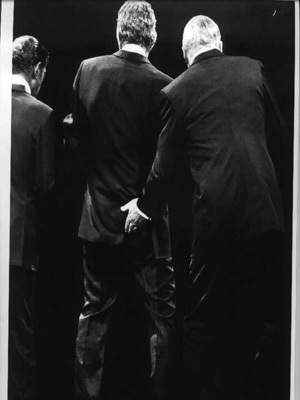 THE "GOOSE" FINAL PERFORMANCE w/SURPRISE CD
$20.00
This photo was taken from behind the scene at the press conference of the final tour of the "RAT PACK". As you know Dean never completed the tour. He dropped out after just a few shows. You will not be dissapointed with this photo and CD.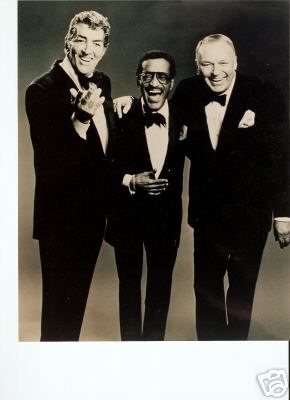 FINAL PERFORMANCE 8x10 w/SPECIAL CD BONUS
$20.00
This was the promo photo for the final tour of "the Boys". Dean dropped out shortly after the tour started. A very special CD is included free.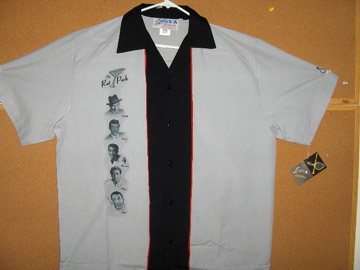 RETRO BOWLING SHIRT X-XL
SOLD!!!!!!!!!!!!!!!!!!!!!!!!!!!!!GONE!!!!!!![50]New with tags. Classic "Rat Pack" images.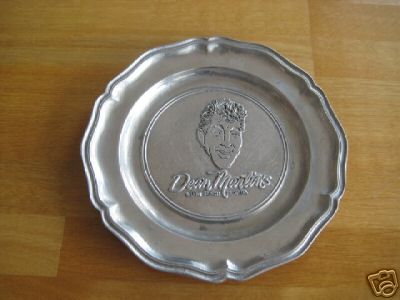 PEWTER PLATE-DEANS JOINT IN MIAMI
$375.00 $325.00 On Sale!
This is a very "RARE" and heavy, 10 1/2",pewter plate is from the 60's. Dean loved the food and booze biz. He had this joint in Miami that was very popular with all the celebs that were in town. This plate has Dean's image, name and location, in raised and etched relief. Truly a one of a kind momento!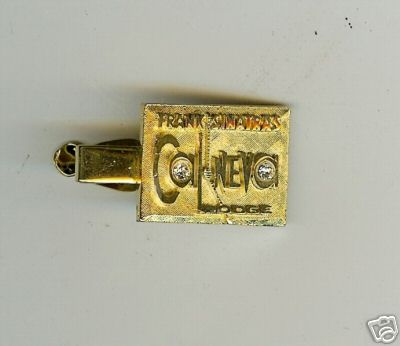 CAL-NEVA TIE CLIP
$900.00 $850.00 On Sale!
This is the "RAREST" piece of CAL NEVA[apt] jewelry around. If you are on this site, you know how rare this piece is. Nuff' said!!!