ART GALLERY OF FRANKS ORIGINAL PAINTINGS
WELCOME TO OUR ART WORK PAGE. They say two things about collecting art; First, only purchase art that you personally enjoy. And, second, try to purchase something by an artist that will appreciate in value over time. I subscribe to that. It has been my ambition to collect limited editions of Sinatra's seriagraphs and lithographs, that are hand signed by him, and numbered as well.These are proven to be a solid investment, as is anything with his signature. To my knowledge there have been only six [6] total different issues of of Franks work. "THE DESERT" was only 100, and "WITCHCRAFT", one of five different paintings that were offered in the series. Each with a limited number of 150. So if you add it up thats a total of only 850 pieces that FRANK "allowed" to be reproduced with his hand written signature. I also have a few "ORIGINAL" art pieces (oil and sketches) available .Some of these examples are NOT for sale. Just display, as I concentrate on increaseing my personal collection of FRANK's art. So, please visit again.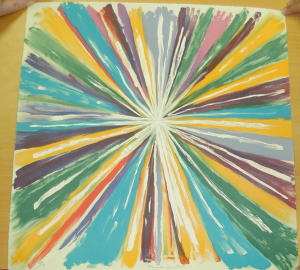 "WITCHCRAFT" #30/150 w /SIGNATURE
$0.00
SOLD((((((((((((((((((((((2600] This lithograph was made and signed by Frank (((CLICK TO VIEW))))in the mid 90's. Only 150 (#134/150 HANGS IN MY HOME) of these were published.Due to Franks condition at the time, not all were signed. In total there were five different paintings that Frank made lithographs of, and he signed as many as he could. This was my favorite,"Witchcraft". A very rare find.#30/150 [approx 20x20"]unframed, comes with COA from gallery and publisher.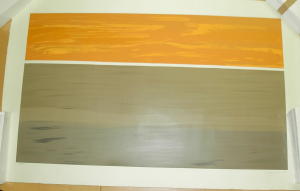 "THE DESERT" #27 of 100
$0.00
SOLD(((((((((((((((((((((((((((3500)This is a (HAND SIGNED AND NUMBERED BY FRANK IN PENCIL) serigraph,#27 of 100, of the first painting Frank painted. The original painting hangs over the fireplace at Rancho Mirage. Serigraph #1 of 100 hangs over FRANKS master bedroom bed,#5 hangs in my home. This is a rare opportunity to own a piece of "real" Sinatra memrobelia. Only 100 of these exist, they were given out to special friends in the early 80's. WILL APPRECIATE OVER TIME.***CLICK TO VIEW SIGNATURE*******(31x48)unframed.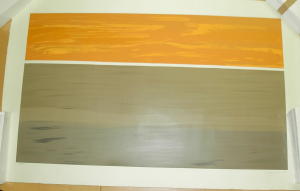 "THE DESERT " #98/100
$0.00
SOLD<<<<<<<<<<<<<<<<<<<<<[2500]This find was extremly unbelievable! The person that this was given to did not know what they had. Frank only gave away a total of 100 of these, his first and favorite piece, to folks that were special to him in 1984. Who ever this one was given to folded it in threes and put it away. Its not that bad but the folds will take time to flatten out. This is a great piece at a fraction of it's appraised value of $3500.(31x48 unframed)***CLICK TO SEE MORE*****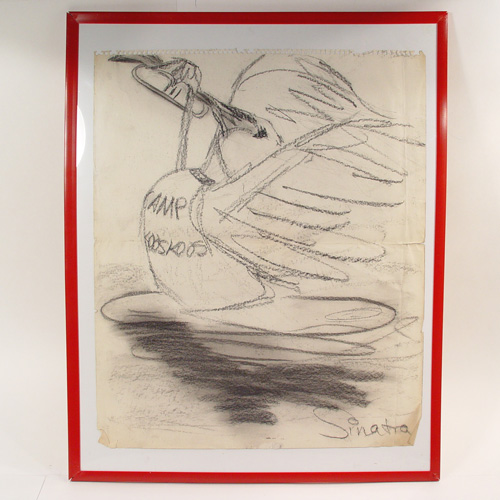 FRANK SINATRA ORIGINAL art HAND DRAWN SKETCH
$0.00 $2,250.00 On Sale!
KOO KOOS ......SOLD SOLD SOLD 2250..Frank loved to sketch and doodle during idle times and even more,during idle conversations. I picked this piece up at an estate sale in Arizona. The person that owned it was a good friend and golfing buddy ( comes with a letter of authenticity) of Franks. He sketched it no doubt in the 60's.It's was framed immediatly and hung in a private office. He used to refer to people he didn't care for as "koo-koos". Obviously the person Frank was drawing was "..leading the charge!"**CLICK TO SEE MORE********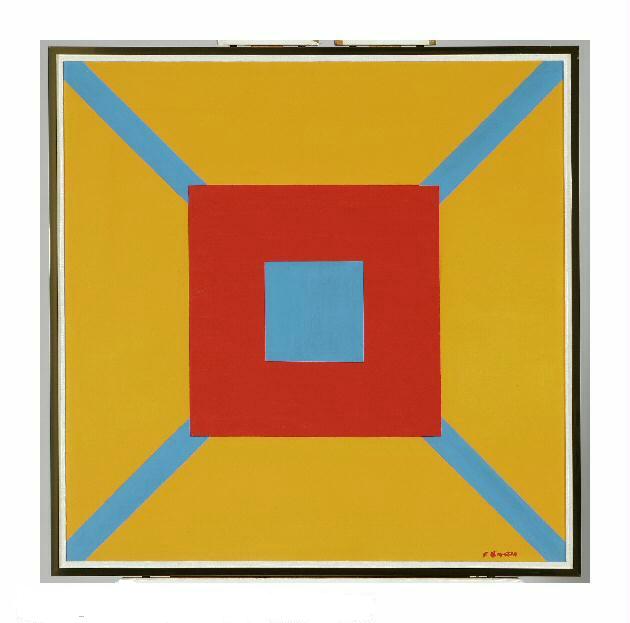 FRANK SINATRA ORIGINAL ART LAST OIL PAINTING
$125,000.00
In May of 1992, shortly after Sinatra completed this painting, he received the tragic news that Jilly Rizzo, his dearest friend, had died in a car accident. Tony Oppedisano (who was introduced to Frank by Jilly 20 years earlier and was very close to both men)had the painful task of delivering the news to Frank. Tony shares, "After Jilly's death, I never saw him [Frank]pick up a paintbrush again." The devistation of Jilly's passing and Sinatra's own subsequent vision problems effectively ended his enjoyment of a 50 year old passion.This bold work, according to his trusted friend Tony, is the last finished Sinatra painting.>>>>>>>>>>CLICK TO VIEW<<<<<<<<<<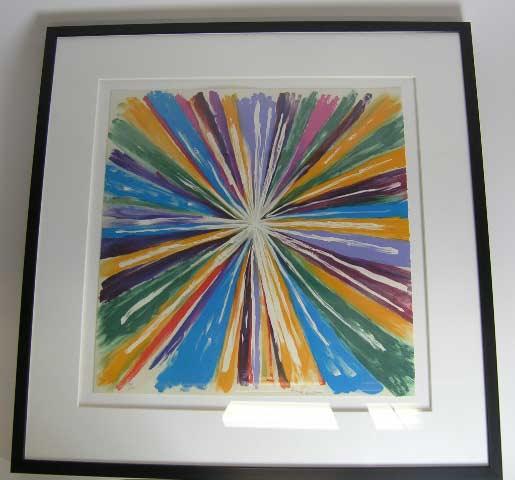 "WITCHCRAFT" #134/150 w/SIGNATURE FRANK SINATRA ART
$5,800.00
This professionally matted and framed piece is from my private collection.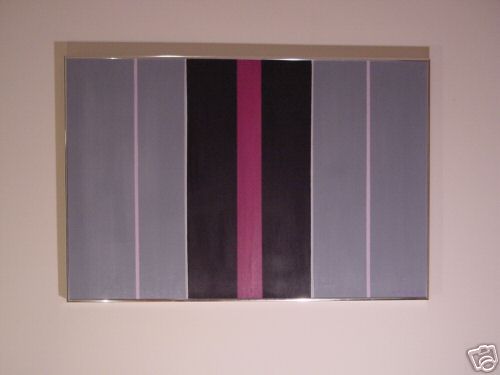 1984 36" x 24" UNTITLED ORIGINAL OIL
$25,000.00
SOLD!!!!!!!!!!!!!!!!!!!!!!!!!!!!!!!!!!NO LONGER AVAILABLE!!!!!!!!!!!!!!!!!!!!!!!!!!!!APPRAISED VALUE MAKE OFFER!This large untitled oil on canvas was given by Frank to Leonora Hornblow, the heiress, in 1984. As you know Frank never sold his work, they were given to special friends. MAKE A REASONABLE OFFER and you will have a solid investment that will increase over time.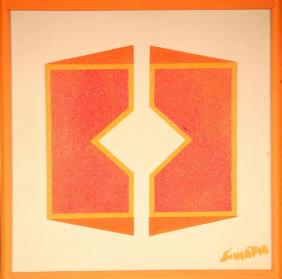 1980 15"x15" UNTITLED ORIGINAL OIL
$9,000.00
SOLD!!!!!!!!!!!!!!!!!!!!!!!!!!!!!!!!NOT AVAILABLE!!!!!!!APPRAISED VALUE MAKE OFFER!.This, 15"x 15" oil on canvas, example is not for sale at this time. It was a gift to a world famous violinist in 1980. Appraised at $10,500.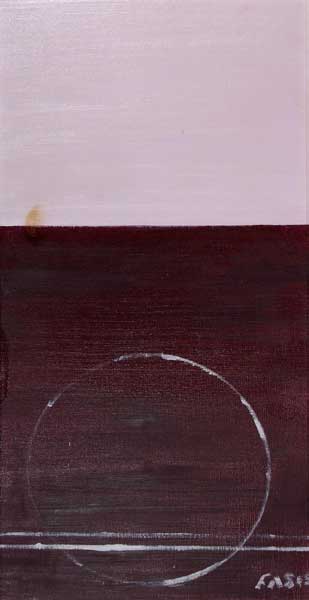 FRANK SINATRA ORIGINAL OIL PAINTING
$0.00
SOLD[[[[[[[[[[[[[17,500]APPRAISED VALUE MAKE OFFER!This 12"x24" oil (BLEMISH IS NOT ON THE PAINTING) was also a gift to the heiress, Leonora Hornblow.************CLICK TO VIEW SIGNATURE**********************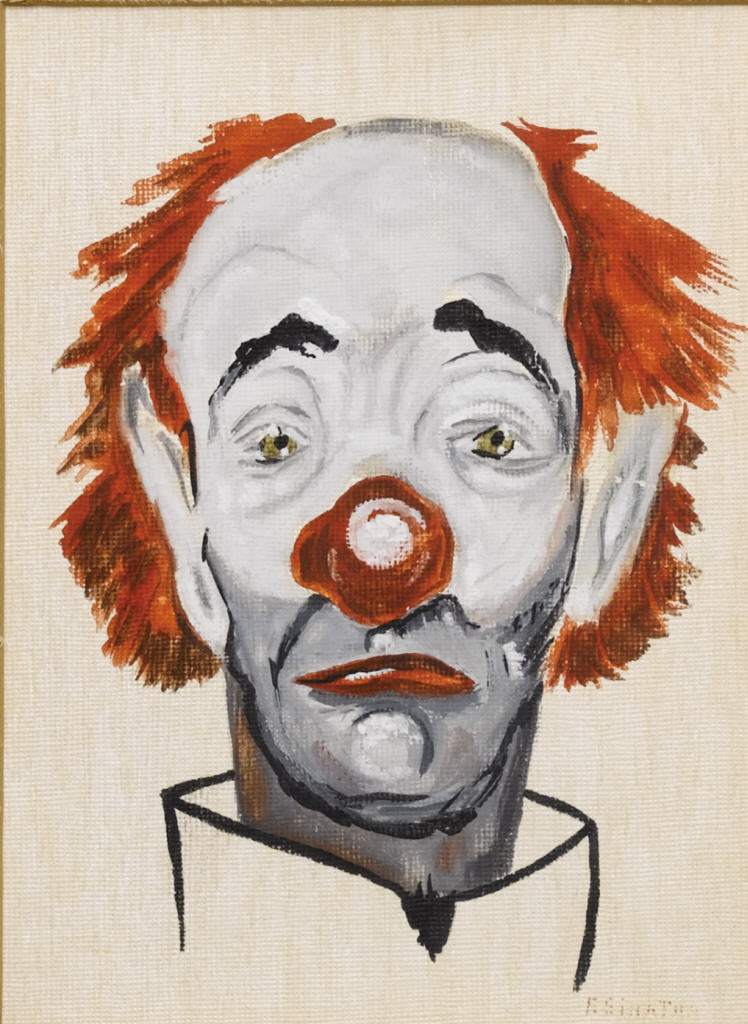 CLOWN PAINTING by FRANK
$0.00
(((((DISPLAY ONLY)))))This 5x7" oil on canvas, shows a more sensitive side of the artist. Some say that this was a portrait of his "inner self". NOT FOR SALE. >>>>>>>>>>CLICK TO VIEW SIGNATURE<<<<<<<<<<<




LAGRE OIL "MOON"
$0.00
Original oil untitled **************CLICK TO VIEW*************




LARGE OIL GEOMETRIC I
$0.00
This large untitled oil *****************CLICK TO VIEW************




ORIGINAL "WAVE" OIL
$0.00
Large original oil**************CLICK TO VIEW*****************




ORIGINAL "WITCHCRAFT" OIL
$0.00
********************CLICK TO VIEW*****************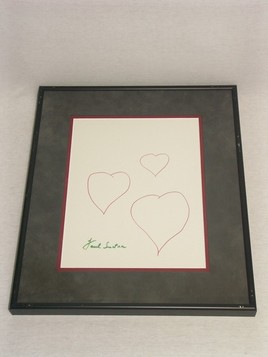 FRANK SINATRA HAND SIGNED DRAWING "HEARTS"
$7,500.00
This 8x11" drawing (Professionally matted and framed to 13x16')was for a charity event in the early 90's.Frank never sold his art, he always gave it away to friends or for charity. This is a beautiful example of his work.Three floating hearts in red on white paper. Hand signed , by Frank, in green ink.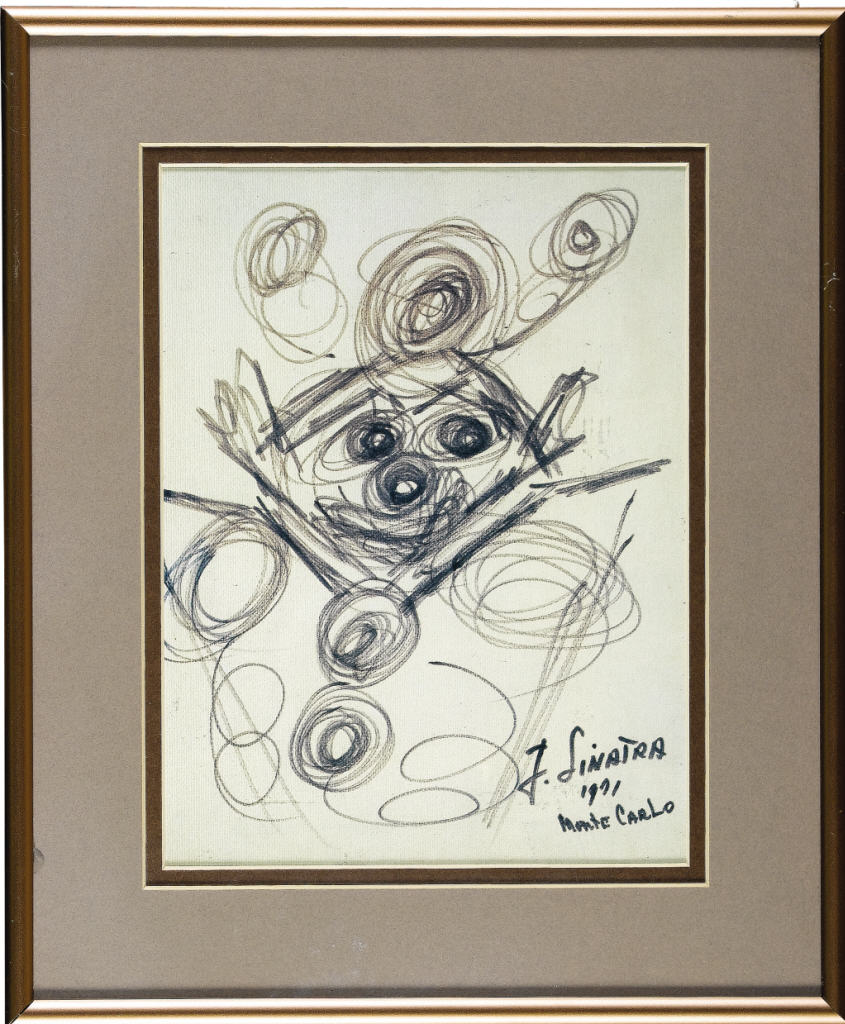 MONTE CARLO SKETCH
$0.00