SPECIAL AWARDS, GOLD RECORDS, INVITATIONS, and PRESENTATIONS
THESE ARE "VERY, VERY" RARE AND DESIRED COLLECTABLES.THE "GOLD RECORDS" ARE THE REAL THING. NOT THE KIND THAT YOU GET AT THE GIFT SHOPPES. THEY ARE LIMTITED TO THE RECEPIENTS THAT WORKED ON THE PRODUCTION OF THE AWARD WINNING ALBUM. THESE ITEMS HUNG ON THE WALLS OF THE EXECS THAT THEY WERE PRESENTED TO.THE REST OF THE ITEMS ON THIS PAGE WERE ALSO VERY, VERY HARD TO COME BY.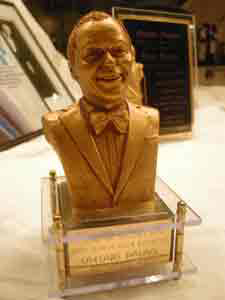 MY WAY Frank Sinatra Caesars Palace Casino MUSIC BOX (ONLY 2 LEFT)
$2,500.00 $1,750.00 On Sale!
This music box bust was a gift (never sold)given to only 500 special guests that attended FRANKS 40th anniversary bash at Caesars, Dec. 12, 1979. Very rare, valued at close to $3000, if you can find one. Plays "MY WAY". perfect for the FRANK fan that thinks they have everything. (2 LEFT)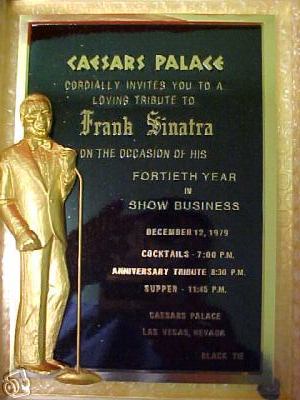 40 th ANNIVERSARY RAISED INVITATION (ONLY 2 LEFT)
$2,200.00 $1,250.00 On Sale!
Only 500 of these were mailed to special guests to celebrate FRANKS 40th year in show business. December 12,1979, Ceaser's Palace, Las Vegas. A cocktail party, dinner and show. This 7 1/2 x 9" plexiglass with resin 3 dimensional image of Frank is still in its original gold foil box. An exceptional show piece.********************CLICK TO VIEW DETAIL OF SINATRA IMAGE*******************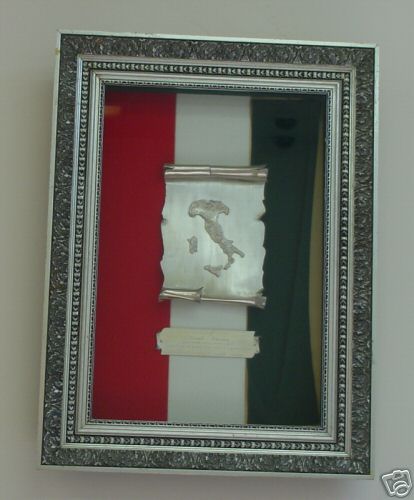 BIG GOOMBA AWARD FROM THE MOTHER COUNTRY
$250.00
SOLD!!!!!!!!!!!!GONE!!!!!!!!!!!!YOU MISSED A REAL COLLECTABLE!!!!!!!!This award was presented to Frank in 1973, in Milan, Italy. The colors of the Italian flag surround the pewter relief of Italy. This actually hung in Franks office. I was fortunate to be able to obtain it. *****CLICK TO SEE ENGRAVING*****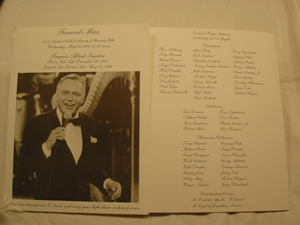 FUNERAL MASS PROGRAM
$250.00 $175.00 On Sale!
This was given out to everyone that attended the Mass. It details the entire ceremony, and lists all the special guests and their contribution to the services. Truely a rare find.****CLICK TO VIEW INSIDE *********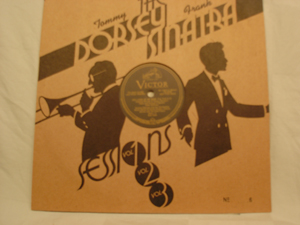 SESSIONS #6 of 1000 AUTOGRAPHED
$225.00
This limited version of this album was produced by and signed by Don Wardell (he signed it on the back of the cover) for his 1982 Grammy winning album "OH! LOOK AT ME NOW" is the only song. (#1 of 1000, was given to the President and Mrs. Reagan) Number 2 went to Frank.This copy came from Wardells personal collection. This was NEVER OFFERED FOR SALE! All paper work provided. A rare piece. A personally signed note , from Frank to Don, is also available on this site.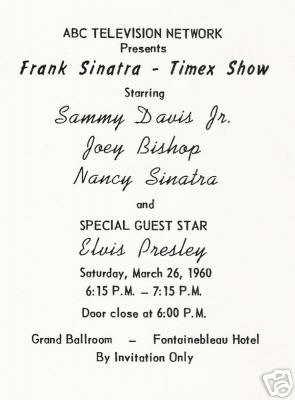 ELVIS AND FRANK TV SHOW INVITATION & PHOTO
$90.00 $65.00 On Sale!
SOLD!!!!!!!!!!!!!!!!!!!!!GONE!!!!!!!!!!!!!U MISSED IT!!!!!!This rare item was for the TV show at the Fountainblue Hotel in Miami. It was Elvis' return from the Army. Click to View the RARE and unpublished photo of the pair.************CLICK*************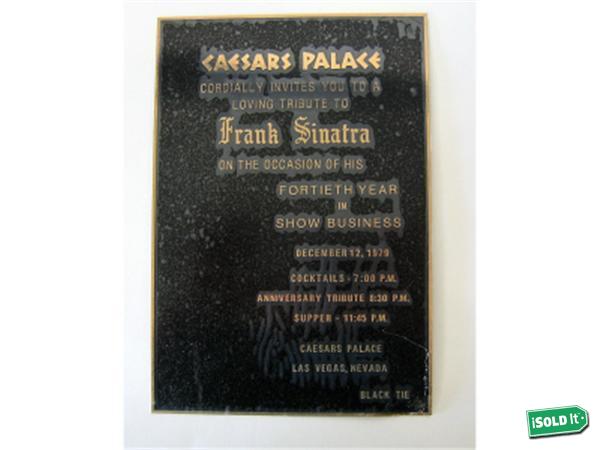 40th COPPER INVITATION (ONLY 3 LEFT)
$120.00 $96.00 On Sale!
Yet another rare invitation to that sacred event. This 5 1/2" x 8" copper relief, has raised letters over a black enamal background...very, very impressive, still has protective film over the entire front. Would look great framed with a photo, or autograph, or just mount it by itself.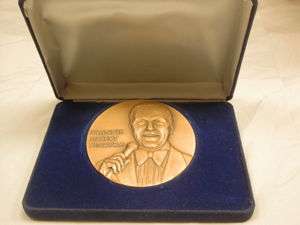 BRONZE COMMERATIVE MEDALLION
$0.00
SOLD OUT...........This is a heavy bronze piece,by sculpter Caesar Rufo. It was minted in '81. I'm sure that it will be the centerpiece of your collection. The detailed engraved likeness of Frank is perfect. Comes in it's original hinged felt box with a COA from the mint. There is ingraving on the back is a quote from Frank.***CLICK TO VIEW QUOTE*******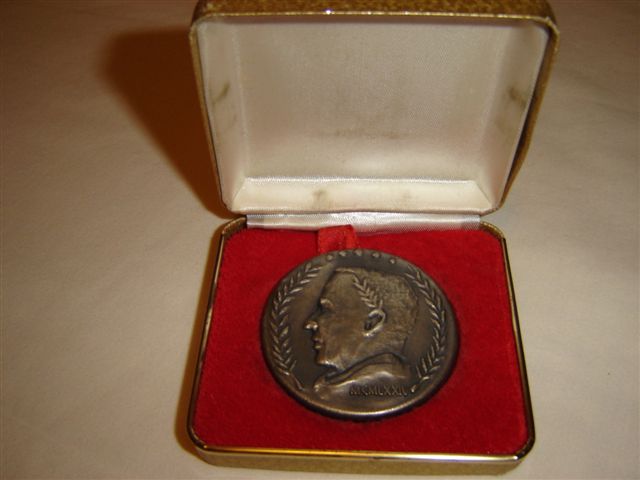 BRONZE RETURN INVITATION
$0.00
SOLD!!!!!!!!!!!!!550]This is the finest example that I have seen of this limited distributed invitation. This, heavy bronze coin (2" diameter) marks the return of Frank to, not only Caesers Palace, but this was the begining "Gig" for the "Ol' Blue Eyes is back!" era. And the begining of his most successful era of his carrer...***CLICK TO VIEW OTHERSIDE****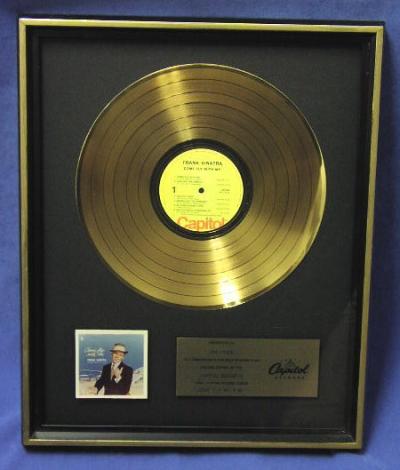 GENUINE INDUSTRY GOLD RECORD "FLY ME TO THE MOON"
$3,500.00 $1,575.00 On Sale!
This is a "GENUINE" gold record, not the 'made up' type that you see at the mall.This one was given out by CAPITAL RECORDS and the music industry. It was given 'only' to the folks that participated in the production of an LP that sold 500,000 copies or more. Back in the day, that was quite an acomplishment. Purchased privatly from estate of recepient of this award. ********CLICK TO VIEW ENGRAVED RECOGNITION BRASS PLATE***********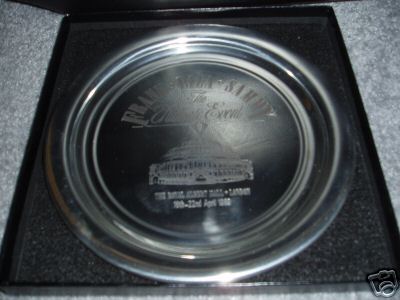 PEWTER PLATE "THE ULTIMATE EVENT"
$265.00 $195.00 On Sale!
RARE!!!A limited edition (1750 total production) 9 1/2" solid pewter plate from the ROYAL ALBERT HALL performance of FRANK, SAMMY, and LIZA. The plate was part of a dinner event, in April of '89, and given to the special guests. ***CLICK TO SEE ORIGINAL BOX***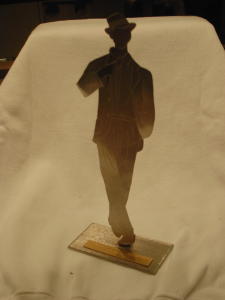 HAPPY BIRTHDAY BLUE EYES "STATUE"
$2,500.00
THIS IS ONE OF THE CROWNING JEWELS OF MY COLLECTION.It was a party favor for all (150) guests that attended FRANKS' 75th birthday party. It's a 9 1/2" stainless steele , 3 dimensional statue of "the man" with mic in hand and hat on head. A small brass plate that says "Happy Birthday Blue Eyes, 12-12-90" Signed by artist, Pascal. A truely rare piece 1 of 150 in the world!!!!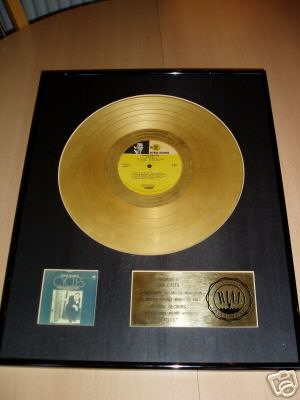 GENUINE INDUSTRY :CYCLES" GOLD RECORD PRESENTED TO "DON COSTA" 1969
$4,500.00 $2,950.00 On Sale!
This was an unbeleivable find!!!!! I don't care if it never sells!!!!****************CLICK TO VIEW ENGRAVED RECOGNITION PLATE**********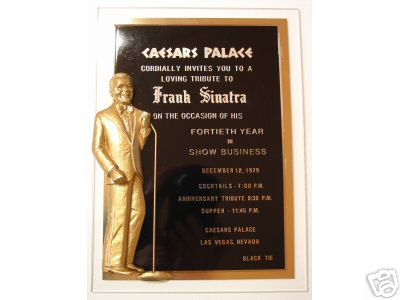 DEAN MARTIN'S PERSONAL INVITATION
$2,850.00
This RARE COLLECTABLE INVITATION (on it's own is a rare in demand collectable)This particular item needs its own page to truly show you how special this rare item really is. Please go to the DEAN MARTIN section, if you are not there already. Thank you.