FRANK SINATRA JO DAVIDSON BUST
AS YOU KNOW, SOME THINGS DESERVE THEIR OWN PAGE. THIS PRECIOUS PIECE CERTAINLY MEETS THAT CRITERIA. JO DAVIDSON (1889-1952) WAS AN ACOMPLISHED SCULPTURE. IN 1946 (THE YEAR OF MY BIRTH, 'FIVE MINUTES MORE', BY FRANK WAS AT THE TOP OF THE CHARTS) DAVIDSON WAS COMMISSIONED TO SCULPT FRANKIE. ONLY 25 OF THESE BUST WERE PRODUCED THAT YEAR AND THEN THE MOLD WAS BROKEN. IN 1998, AT CHRYSTIES AUCTION HOUSE, IN NEW YORK, SOLD ONE OF THESE FOR $14,500.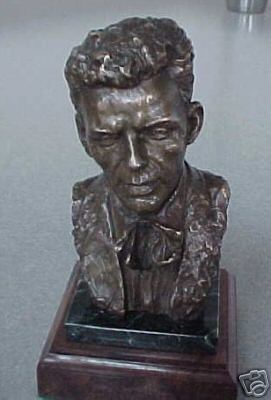 FRANK SINATRA DAVIDSON BUST
$12,500.00
I have seen this in all the books and mags that talk about Franks career, especially the early years. Since then I have Jones'd for one. Now I have one of the twenty-five (25) signed pieces. Thats it just 25 in the world. A rare find! This perfect bronze sculpture is about 12" high, on a veined green and white marble with walnut base.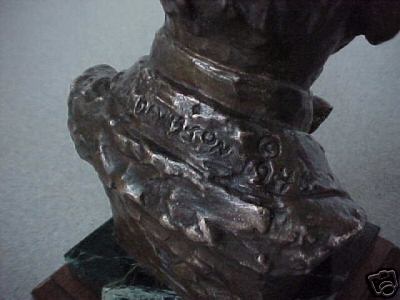 SIGNATURE OF THE ARTIST
$0.00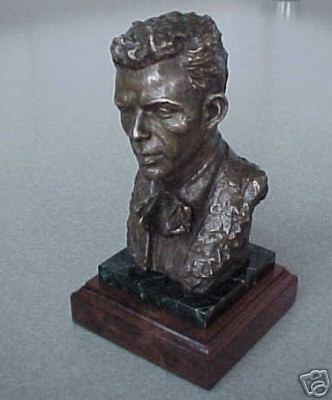 THREE QUARTER VIEW OF BUST
$0.00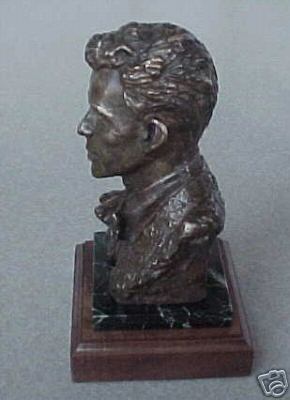 SIDE VIEW OF BUST
$0.00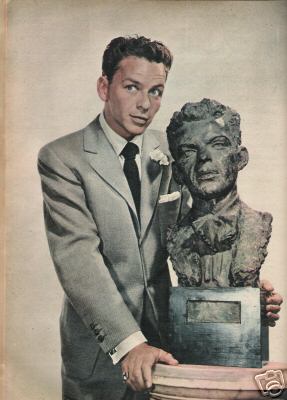 FRANK WITH THE ONLY LIFE SIZE BUST
$0.00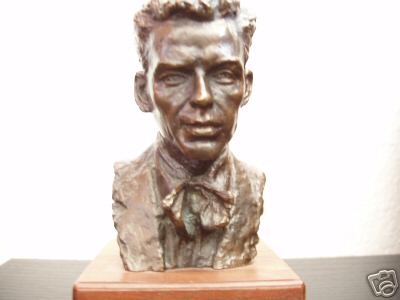 SMALLER DAVIDSON BUST
$0.00
SOLD!!!!!!!!!!!!!!!!!!!!!!!!!!!!!!![850]500]This smaller [6"] version was from the estate of a newspaper columnist[Hedda Hopper] Approximatly only a few dozen of this size exist. They were given to industry execs and critics. Read about this on THE DAVIDSON BUST page.



THIS BUST IS AVAILABLE, PLEASE MAKE A SERIOUS OFFER.