VIDEOS & DVDS
FREE SHIPPING WITH PURCHASE OF 3 OR MORE VIDEOS OR DVDS THAT YOU ORDER!!!!!!!!!!!!I HAVE A LARGE AND EXTENSIVE INVENTORY [TO LARGE TO LIST] OF VIDOES AND DVDS. FROM ORIGINAL MOVIES, TV SHOWS,DOCUMENTERIES, AND MUSIC VIDEOS. BOTH FRANK AND RAT PACK FILMS AND STORIES AVAILABLE AND SOME OF THEM ARE STILL IN ORIGINAL SHRINK WRAP. PLEASE CONTACT ME WITH YOUR REQUEST AND I WILL USE VIDEO E-MAIL TO SHOW YOU ITEMS. THANKS FOR LOOKING!
VIDEOS & DVDS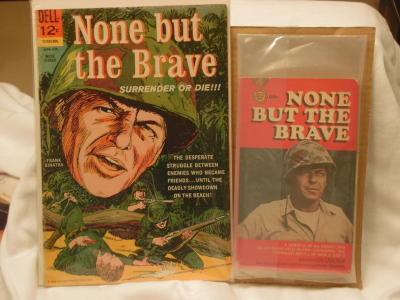 "NONE BUT THE BRAVE" COMBO w/FREE VHS
SOLD!!!!!!!!!!!GONE!!!!!!!!!!!!!![25/55]A rare "DELL" comic and an even rarer soft cover of one of Franks great roles.Both in perfect condition, and you can get the video "FREE" with this purchase.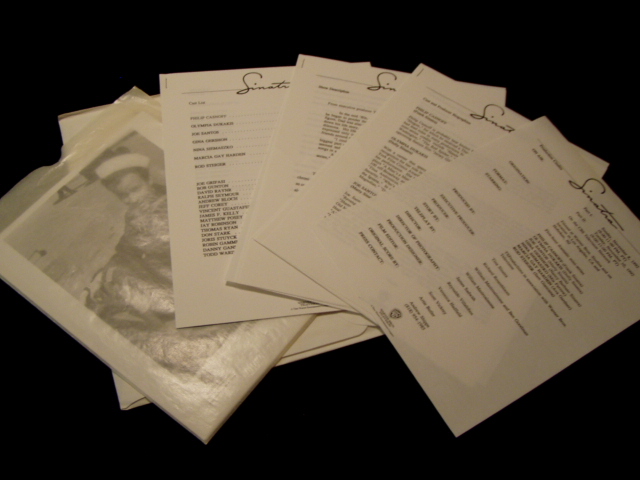 TV "SINATRA" MINI- SERIES PRESS KIT AND VIDEO OF SAME
$99.00 $75.00 On Sale!
This is a "COOL COMBO" for the fan that thinks they have everything. A complete press kit that was given to TV stations in October of 1992, for the 5-hour mini-series called "SINATRA", produced by Tina Sinatra.Included with purchase is a brand new VHS of same.***CLICK TO GET MORE INFO*********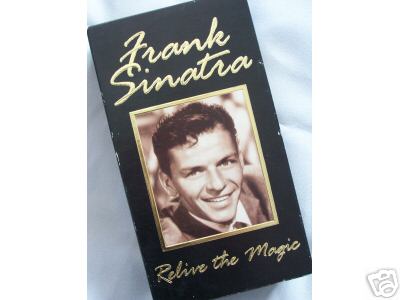 RELIVE THE MAGIC VIDEO
$8.00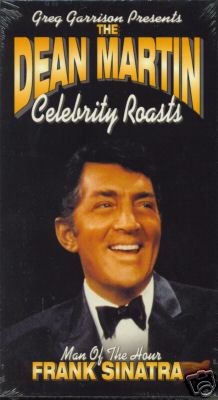 CELEBERTY ROASTS WITH DEAN VHS
SOLD!!!!!!!!!GONE!!!!![20]FRANK GETS ROASTED!!!What a program, the first in the original series.To many celeberties to list. On VHS, only, and no club to join! Great entertainment!!!!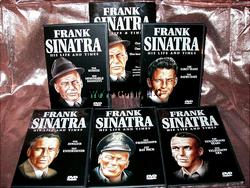 DVD "HIS LIFE & TIMES"
$30.00
BRAND NEW, NEVER OPENED, STILL SEALED> 10 FEATURES ON 5 DVD DISCS. GREAT GIFT!!!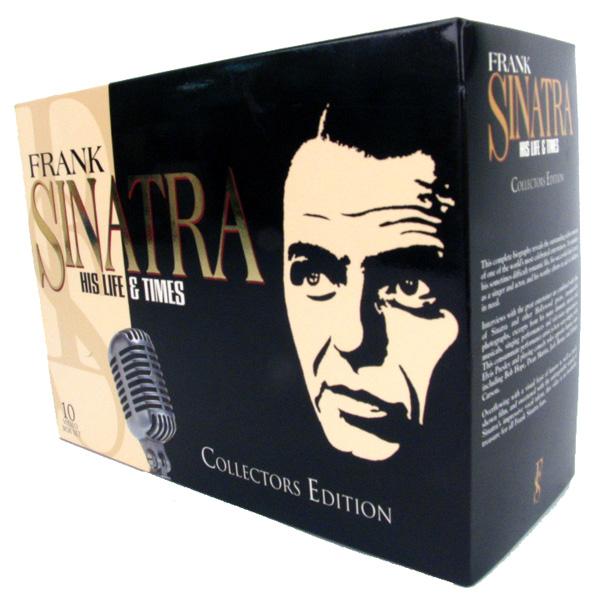 VHS "HIS LIFE & TIMES"
SOLD!!!!!!!!!!!!!!!!!!!!!!!!!!!!!!!!!!11[35]COLLECTORS EDITION!!! Never opened, still sealed. PERFECT GIFT!This is a 10 video box set.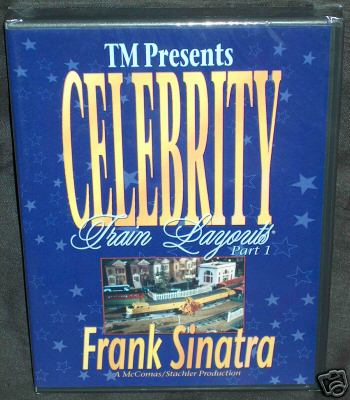 CELEBERTY TRAIN LAYOUTS DVD
SOLD!!!!!!!!!!!!!!!!!!!!!!!!!!!!!!!!!![10]This detailed DVD shows Franks collection and layout. Also shows, in detail, his famous "caboose" train house in Palm Springs.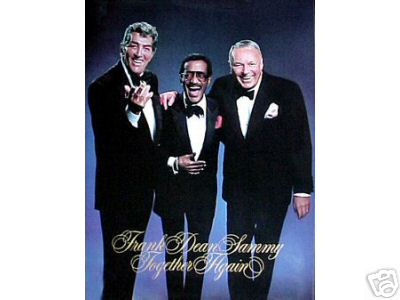 FINAL GATHERING OFFICIAL POSTER with SURPRISE VIDEO
SOLD!!!!!!!!!!!!!!!!GONE!!!!!!!!!!!!![75]This is it, the final poster of the illustrious "RAT PACK". Dino didn't complete the tour due to an illness.He was replaced by different performers at different venues. I saw Buddy Greco in A C. Those that saw the tour really have something to remember.This original 18x24" poster is in pristine condition.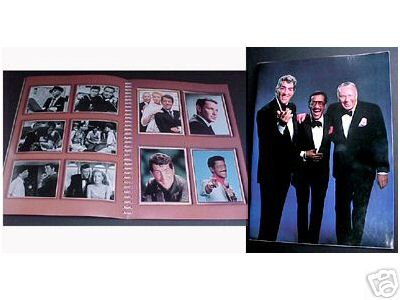 FINAL PROGRAM OF THE RAT PACK with SURPRISE VIDEO
$75.00
SOLD!!!!!!!!!!!!!!!!!!!GONE!!!!!!!!OUTAHERE!!!!!!!!!!!PRISTINE ORIGINAL PROGRAM OF THE FINAL TOUR OF THE GREATEST ENTERTAINERS EVER!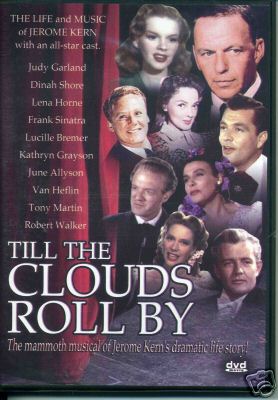 "TILL THE CLOUDS ROLL BY"
$10.00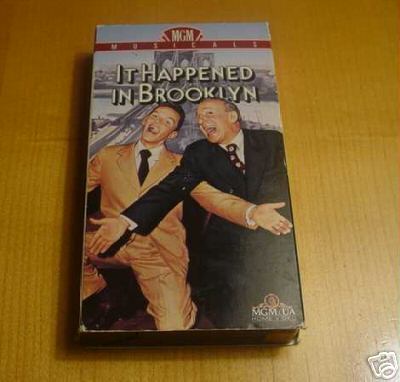 "IT HAPPENED IN BROOKLYN"
$10.00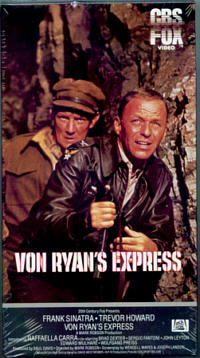 "VON RYANS EXPRESS"
$10.00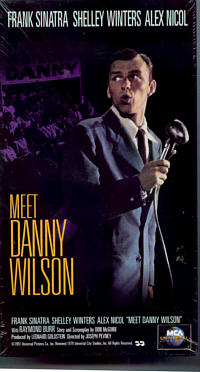 "MEET DANNY WILSON"
$10.00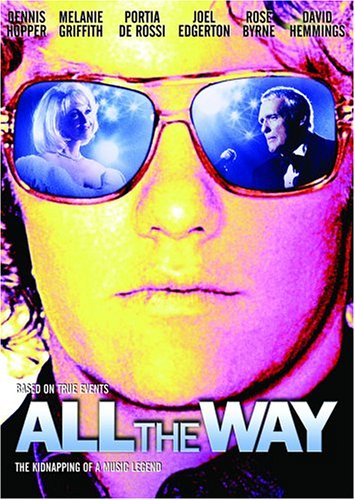 ALL THE WAY (DVD-MOVIE)
$20.00
New release, viewed once. A very good story about when Frank went "Down Under" in the early 70's to tour. And, he was held hostage in his room for 3 days, by the unions for insulting a female (union member of course) reporter. There is some singing. Dennis Hopper plays Frank and Melinie Griffith plays Barbara.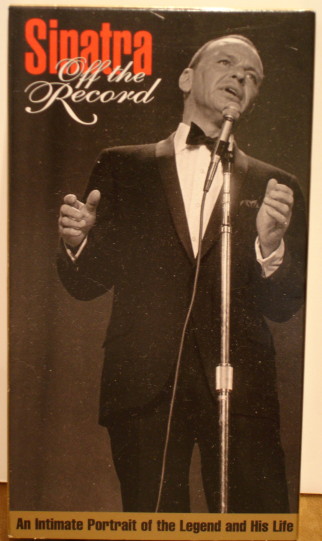 SINATRA "OFF THE RECORD" VHS
SOLD OUT!!!!!!!!!!!GONE!!!!!!!!!(17)BRAND NEW,NEVER OPENED copy of this out of print CBS news special from 1965 with Walter Cronkite. The film crew followed Frank around for 6 months. This is truely a video (45 mins.)that you will enjoy. Frank talks candidly about family, friends, work, and his MOB connections.This remains as the DEFINITIVE TV portrait of one of the greatest entertainers of our time.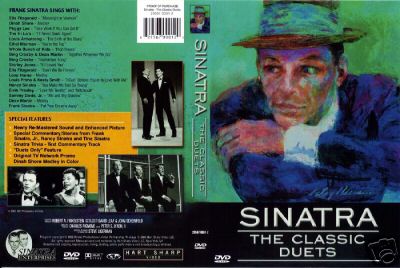 CLASSIC DUETS DVD VIDEO
$14.00
Classic duets from the TV shows and movies that Frank performed with other celeberties. Including the famous "duet" with Elvis.Cover art by Leroy Neiman.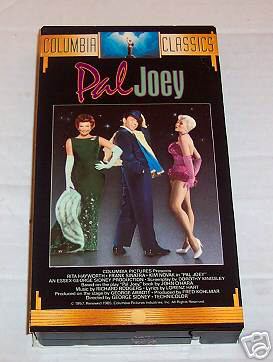 PAL JOEY VHS
$12.00
This VHS is still in its original shrink wrap.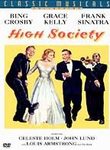 HIGH SCOCIETY
$13.00
This used DVD is in perfect condition.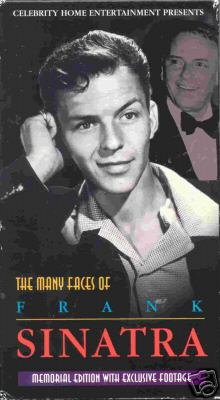 THE MANY FACES OF FRANK SINATRA
$10.00
This VHS is long out of circulation. Like new condition.An interesting look at the man and his other intrests. A very candid and relaxed Sinatra. Even an interview without his HAIR!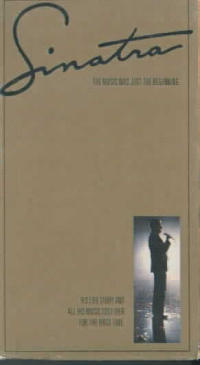 SINATRA-THE MINI SERIES
$15.00
This 2 VHS set is brand new. This was produced by Tina in 1993. Great viewing.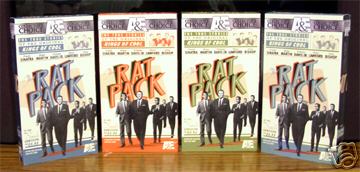 A & E TV RAT PACKMINI SERIES VHS w/BONUS
SOLD OUT!!!!!!!!!!!!!!!!!!!!!!!!!! ALLL GONE!!!!!!!!!!!!!!!!!![65]This out of print, award winning video, is narrated by Danny Aillo. The "whole" story of the boys. Individually and as a group. Put on the big screen, mix some cocktails, order a pizza (white, with sliced tomatoes a'oile)and you will be transformed back to the day.You will be glued to your seat until all 4 tapes are complete! I'm not kidding...GREAT ENTERTAINMENT!!!As a bonus you will also get an 8x10" autographed photo of Danny Aillo.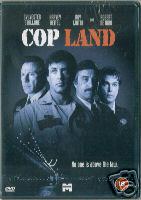 COP LAND SIGNED POSTER AND DVD
$200.00
This is a rare oportunity to get DINERO, STALLONE, KEITEL, LOYOTTA, AND THE REST OF THE CAST AUTOGRAPHS on this signed poster. The poster was signed at the "RAP" party and was used as part of a benefit. Also included is the DVD of the movie....Ask for video mail to see the close ups of autographs.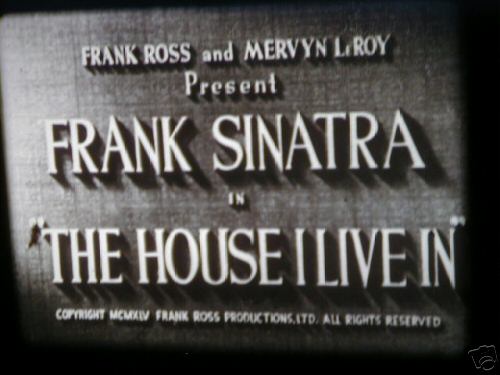 MOVIE & 78 "THE HOUSE I LIVE IN"
$0.00
SOLD====================[160]This is a 16mm original movie reel. Not just any movie..The movie that Frank got his first "OSCAR" (Acadamy Award) for his role as a young singer trying to get some kids to unite, and be Americans. Not to be predjudice about race, religion, or nationality. It also got the attention of the "PINKO POLICE" that watched Franks activities for a decade or so.ALSO included is a, in perfect condition, 78 record of the song.********CLICK TO VIEW MORE**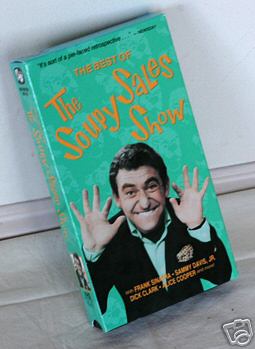 BEST OF SOUPY SALES & AUTOGRAPHED PHOTO
$95.00 $65.00 On Sale!
This is a great VHS video of Soupy, Frank, and Sammy. Fartten' and foolen' around. Soupy was a "pallie" of the boys. I am not kiddind, this is a "BLAST!" Also included is b&w 8x10 hand signed autographed photo of Soupy, himself. Thats worth the price of admission alone!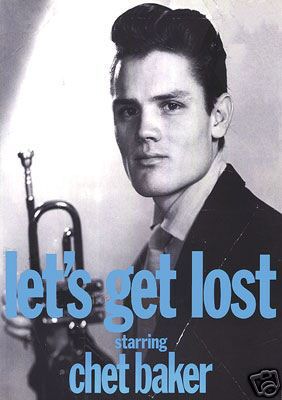 CHET BAKER "LETS GET LOST" VHS
$25.00
This is a rare VHS copy of the Acadamy Award nominated, Bruce Weber's film about Chet. It tells his story, and Chet stars in this unbeleivable documentry. Filmed in the late 80's, just prior to his tragic death. After Frank, Chet is my favorite singer/trumpet player.I have just about everything he recorded.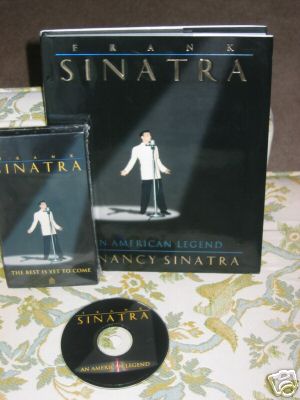 AN AMERICAN LEGEND BOOK, CD, & VIDEO
$32.00
This special edition is still shrinkwrapped. The great book with soundbites of Frank. From the begining of his career 'till his final performance. This CD tells the story. The VHS that is included in this was never offerred seperately. A true collectors piece.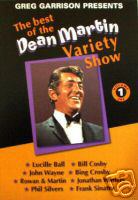 BEST OF DEAN MARTIN VARIETY SHOW #1
$20.00 $15.50 On Sale!
This was the first of the series. DVD ONLY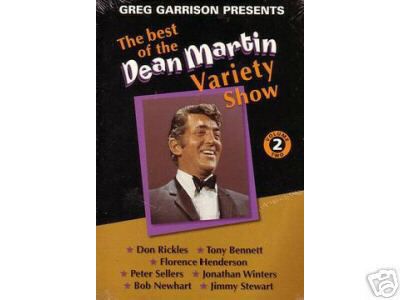 BEST OF DEAN MARTIN VARIETY SHOW #2
SOLD OUT!!!!!!!!!!!!!!![15]Volume 2, of the series. New and never opened. DVD ONLY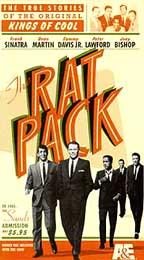 A & E TV RAT PACK MIMI SERIES DVD w/BONUS
SOLD!!!!!!!!!!!!!!!!!!!!!!!!!!!!!!GONE!!!!!!!!!!!!!!!!!!!!!!!!!!!!!!![110]'out of print' award winning documentry/mini series is narrated by Danny Aillo. It is the same show as the 4 VHS, also availabe here, on 2 DVD's.It details the 'BOYS' individually and as a group. Great entertainment as well as informative. Also included ia an 8x10" autographed photo of Dannt Aillo.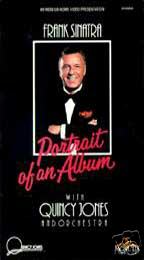 PORTRAIT OF AN ALBUM VHS
$20.00
This is a documentry, of sorts, of a recording session that turned out to be Franks final studio album. With Quincey and 'all' the CATS jumpin', blowin', and jammin! All the songs from the album "LA IS MY LADY". A great used VHS that is not available in disc, YET!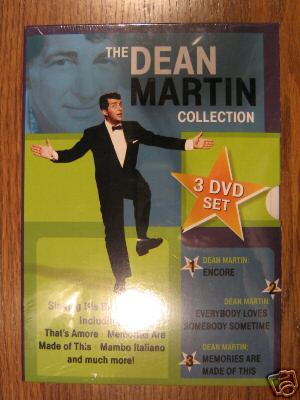 DEAN MARTIN 3 DVD SET
$0.00
SOLD!!!!!!!!!!!GONE!!!!!!!!!![30]This is a rare and unusual collection of performances by Dean. All 3 DVD's have different songs, all the popular ones, that span the career of Dean.***************CLICK TO VIW************************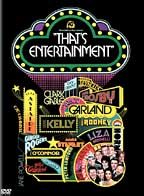 THATS ENTERTAINMENT VHS
SOLD OUT!!!!!!!!!!!!!!!!!!!!!!!!!!!!!!(8)This was the BEST entertainment movie ever made, period!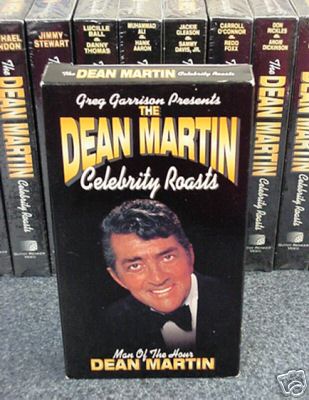 DEAN MARTIN ROASTS "DEAN MARTIN" VHS
SOLD!!!!!!!!!!!!!!!!!!!!!GONE!!!!!!!!!!(20)This, 100 minute VHS, is one of the more interesting and funnier of the entire series, even funnier than Franks roast. The MAIN MAN of the series has the tables reversed. "It's a gas, man".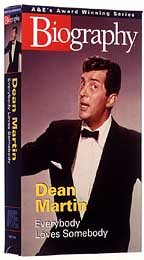 A&E DEAN MARTIN BIOGRAPHY VHS
SOLD OUT!!!!!!!!!!!!GONE!!!(19)"Everybody Loves Somebody" This 50 minute A&E TV documentry special, follows the mans career.Absolutly great information and entertainment.