ADVERTISMENTS
THEESE ITEMS ARE EITHER FRANKS ENDORSMENTS, NOTICE OF FRANK RECORDS AND MOVIES. AND, ALSO FRANKS PRODUCTS. INTERESTING LOOKING EVEN IF YOU DON'T PURCHASE. ENJOY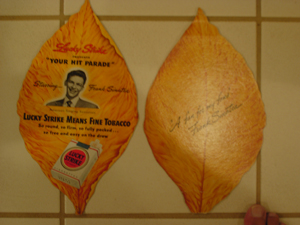 HIT PARADE FAN
$325.00 $225.00 On Sale!
This is a "rare" piece from the 40's. It was "A FAN FOR MY FANS". Given out, not sold, to the attendees of the "YOUR HIT PARADE" TV show. There are not many of these around, especially in this condition. Would make a cool mounting.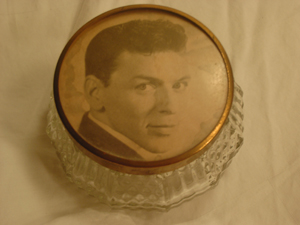 ANTIQUE POWDER JAR
$150.00
SOLD!!!!!!!!!!!!!!!!!!!!!!!GONE!!!!!!!!!!![150]Dates back to the 40's. Used for powder or hair pins. Extremly unusual. Use it to hold paper clips, rubber bands, etc. Or just ad it to your collection.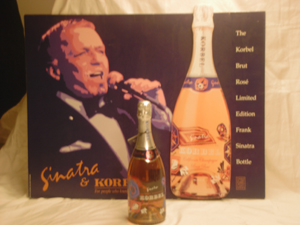 KORBEL AD
$95.00
This 3D ad was for the special edition champange bottle that FRANK desigined. Champange (full) sold seperatly.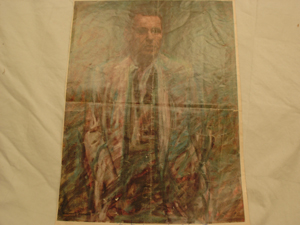 SIGNED PLAYBOY PAGE
SOLD!!!!!!!!!!!!!!!!GONE!!!!!!!!!!!!!!!GONNA MISS THIS ONE!!!!!This was signed in the lower right hand corner. Professional matting can cover 'dedication' and show ONLY FRANKS SIGNATURE. Personaly signed, sometime in the 60's, by FRANK. This piece has been folded and stashed for sometime. The creases are noticable. With the proper matting and framing, it would make a spectacular piece.Purchased from an estate sale in Boca, Fla.******CLICK PHOTO TO SEE DETAIL OF AUTOGRAPH***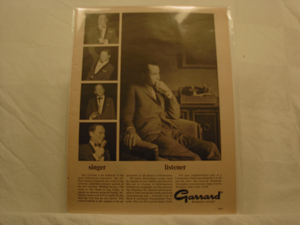 GERARD TURNTABLE AD
$20.00
SOLD****GONE****OUTAHERE! This just needs to be matted and framed. The story this ad tells is a great and perfect discription of the man.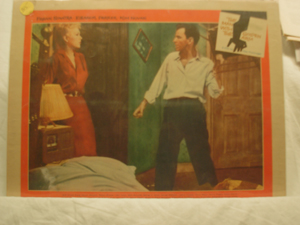 GOLDEN ARM LOBBY CARD
$35.00
This rare LC would look great with the World Doll "Frankie Machine". I also have a full sheet original movie poster from "The Man With The Golden Arm"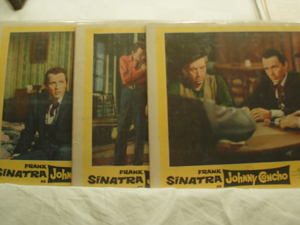 JOHNNY CONCHO LOBBY CARDS
$25.00
SOLD!!!!GONE!!!!OUTAHERE!!!!Special price for all THREE lobby cards. Theese are originals, not reproductions. They are in perfect condition.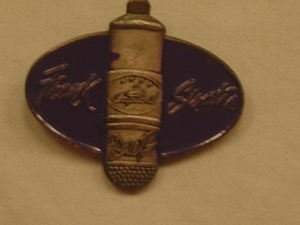 DUETS PIN
$19.00 $14.50 On Sale!
Theese were used to promote the "DUETS" album.



LIFE SIZE FRANK
$350.00 $300.00 On Sale!
THIS IS THE LAST ONE THAT I HAVE!!!!!Alright, almost life size. This 5'6'' heavy cardboard cut out was used to promote the latest Reprise release. I have had alot of fun with this, in a photo it looks real.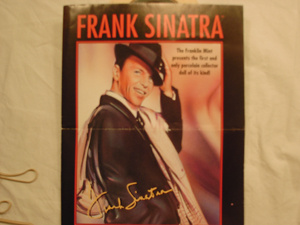 FRANKLIN MINT DOLL BOOK
$25.00
SOLD!!!GONE!!!OUTAHERE!!!!Used as an in store promotional piece. As you can tell, I collected everything that had Sinatra on it.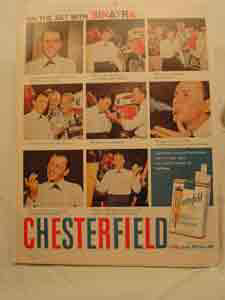 CHESTERFIELD AD
$17.50
SOLD!!!GONE!!!OUTAHERE!!!!A one page magazine ad from the 50's. This original 10x14 page ad, ran in the popular Life, Look and Post magazines, will look great matted and framed.



ESQUIRE "MINI MAG"
$0.00
SOLD***** GONE***YOU MISSED IT! [20] The entire magazine is one article "THE GREATEST STORY EVER TOLD: FRANK SINATRA HAS A COLD" by Gay Talese. Makes interesting reading. though it was written in the 60's. This special issue was one of Esquires editors picks as the best published stories to date. Also has limited advertisind by Absolute Vokka.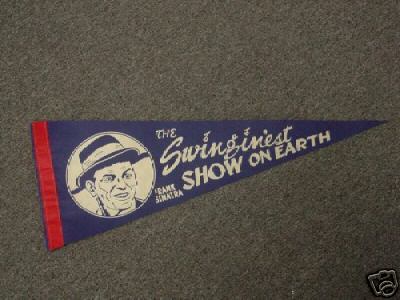 PENNANT (from a 50's show)
$100.00 $75.00 On Sale!
A super RARE collectors item. Back in the day, these were sold at the concession stands at the shows. Now, all you need is the pom-poms tugo wit'dem." GIVE ME AN F"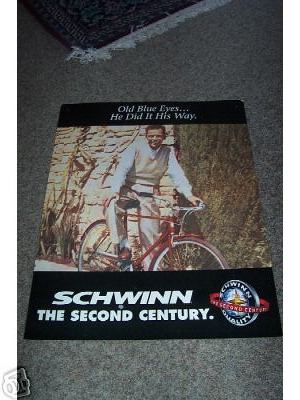 SCHWINN BIKE AD
$50.00
SOLD!!!!!!!!GONE!!!OUTAHERE!!!!!!!!!!!!!This 24x 30 inch, two sided ad on heavy cardboard is in perfect condition. It shows Frank on his bike. So, thats how he stayed so thin. Silly me, I thought it was the ladies!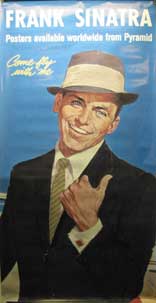 6 FOOT POSTER WITH RARE C D
SOLD***GONE***OUTAHERE!!!THIS IS UNBELEIVABLE!!![250] A 6 FOOT BY 21/2 FOOT POSTER. Made of vinyl and printed on both sides. It dates back to the 70's and was used for some promotion. Would make a cool STATEMENT as a room divider or just cover the wall!And get the BONUS RARE and EXCLUSIVE C D>"Come Fly With ME" put out by United Airlines***************CLICK PHOTO TO VIEW C D*******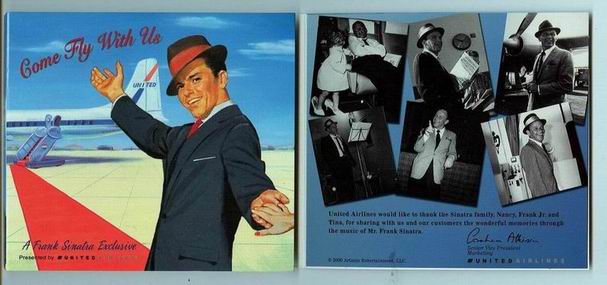 "COME FLY WITH US" RARE PROMO CD
$45.00 $35.00 On Sale!
This was a special promo 'A FRANK SINATRA EXCLUSLIVE'presented by United Airlines.It's not a reissue of the original "COME FLY WITH ME" album from the 50's. Rather a collection of Franks songs related to cities and travel, a nice collestion of music I've seen this listed for alot more than this. New and rare.***********CLICK TO VIEW INSID COVER***********************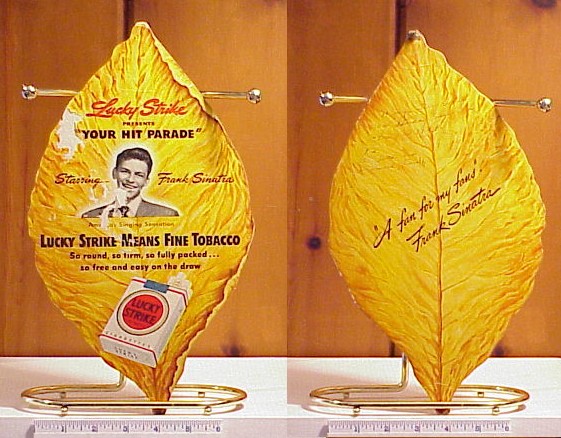 LESS THAN PERFECT FAN
$90.00
SOLD!!!!!!!!GONE!!!!!GREAT VALUE, YOU MISSED THIS ONE!!!!!!!!!!!!!!!Special price for a very "COLLECTABLE" piece of memrobilia. It has some writting and a small tear. But, still this 1944 piece is very much in demand. Offerred at a "fraction" of the valued price.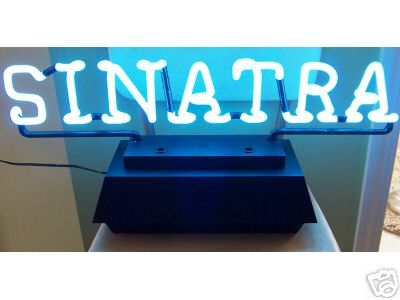 NEON SINATRA
SOLD!!!!!!!!!!!!!!!!!!!!GONNA MISS IT!!!!!!!!!!!![350]This was given to record stores in the early 80's to promote an album release. Makes a "cool" statement in you bar or as an accent lamp in your game room.Approx 17" wide, shipped in two pieces.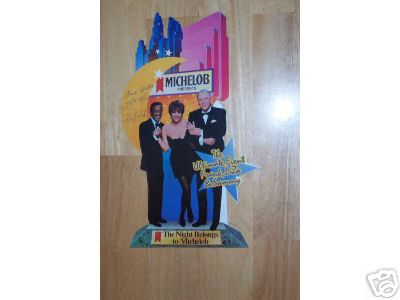 THE ULTIMATE EVENT
$22.00
Perfect 11" stand up table tent with preprinted signatures of all. "Michelob Presents" (only 1 LEFT)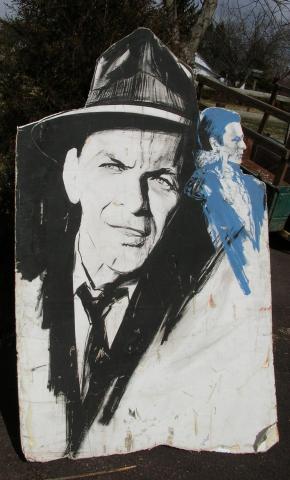 LARGE PEN AND INK DRAWING
$100.00
SOLD***GONE***OUTAHERE****I mean LARGE! This 77"x48" pen and ink drawing was used to promote the "SINATRA SHOW" in the lobby of a local Philly radio station. This is a one of a kind piece that can free stand or be mounted.*****CLICK TO SEE MORE********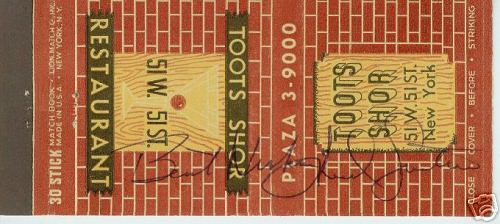 TOOTS SHORE SIGNED MATCHES
SOLD!!!GONE!!!OUTAHERE!!!!![375]This was one of "...all the stops along the way. Nice and easy does it all the time."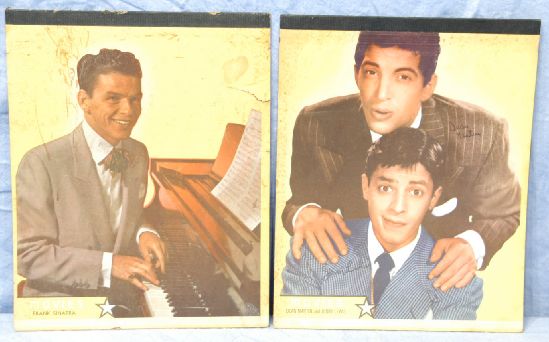 SCHOOL TABLETS
$50.00
SOLD!!!!!GONE!!!!!!OUTAHERE!!!!!These belong togeather. Standard lined school tablets from the 50's, a great addition for the collector that thinks they have everything.**CLICK TO SEE MORE***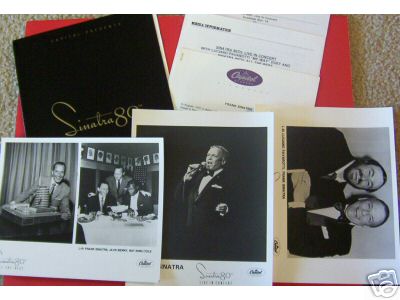 80th SPECIAL PRESS KIT
SOLD GONE OUT A'HERE******************************[40]This press kit is from FRANKS 80th birthday special. Seems like yesterday.In perfect condition from the studio PR department. Certain to be a conversation piece in any collection.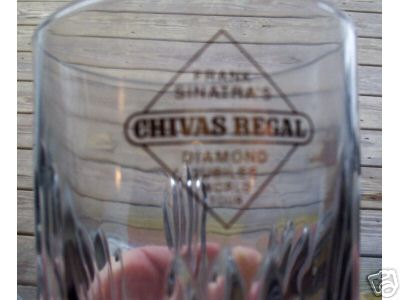 GLASS FROM CHIVAS TOUR
$0.00
SOLD OUT!!!!!!!!!!!ALL GONE!!!!OUTAHERE!!!!!25Rare collectors glass from a tour sponsered by CHIVAS REGAL.**CLICK TO SEE DETAIL OF BASE****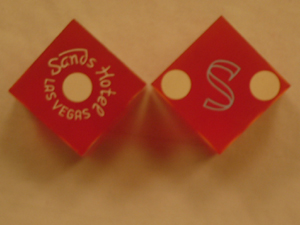 SANDS STANARD DICE- ORIGINAL LAS VEGAS CASINO
$0.00
SOLD OUT**************************************[32.50]THESE HIGHLY COLLECTABLE VINTAGE DICE from that great original "RAT PACK" hangout, casino, and showplace. The "SANDS HOTEL, LAS VEGAS" is stamped on all dice. These dice make up wonderfull with any "Rat Pack" or Sands Casino photo or just being part of all the things on your desk.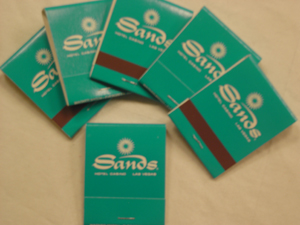 SANDS MATCHES
$5.50
Use these as part of a RAT PACK or SINATRA mounting.Priced per pack.They are from the original casino in Vegas.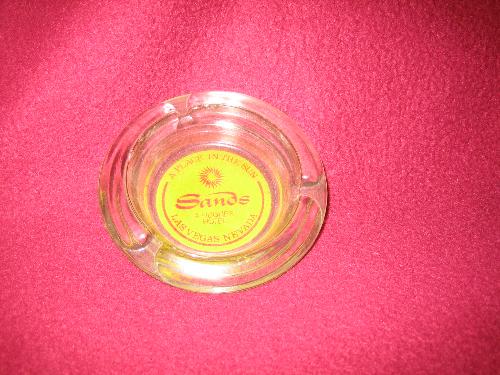 THE BOYS AT THE SANDS SIGNED MAILER
$1,200.00
SOLD!!!GONE!!!!OUTAHERE!!!!!!CLICK TO SEE THE MAILER TO THIS SHOW!!!!ALL THREE!!!!! SIGNED THIS SANDS MAILER/INVITATION****CLICK TO VIEW THE ENTIRE SIGNED PIECE CLOSE UP AND PERSONAL LIKE****************YOU WILL WANT TO HAVE THIS ONE!!!!!!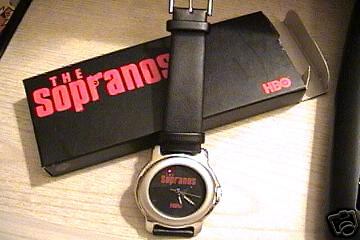 SOPRANO'S WATCH
$20.00
SOLD!!!!!!!!!!!!!!!!!!!!!!GONE!!!!!!!!!!!!!!!!!!These were available during the first season as a promo.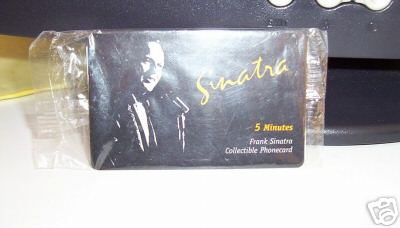 PHONE CARD
$7.00
SOLD!!!!!!!!GONE!!!!!!OUTAHERE!!!!!!!!!!!!!A rare nostalgia piece from the late 80's. When certain people close to Frank encouraged him to market everything he could.Sorry, the times up!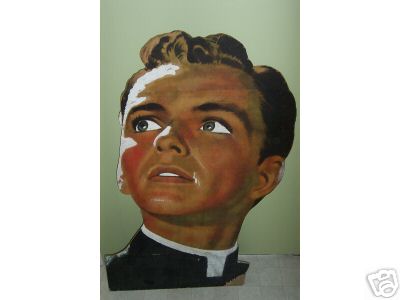 LARGE 4 foot PHOTO POSTER
$360.00 $300.00 On Sale!
OUTAHERE!!!!!!!!!!!!!GONE!!!!!!!!!!!!YOU MISSED IT!!!!!!!!!!!!!!!!!!This is an extraordinary piece. It is the actual character poster(the entire face is a cut out, almost 2 dimensional) used at the Paramount Theater, to promote the movie"The Miracle Of The Bells". During the 40's this was used as part of the coming attraction promotion. Ss to when the motion picture would be showing, who the stars were, yadda, yadda, yadda! C'mon you remember! Not a copy,but a sturdy well constructed piece, that used to be in the lobbies near the pop-corn stand. In fantastic condition!*****CLICK FOR MORE INFO*****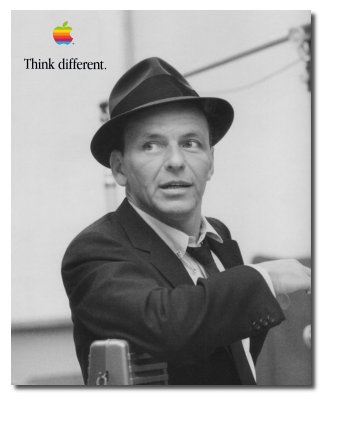 APPLE "THINK DIFFERENT" 8x10
$15.00
This was a promo for Apple computers.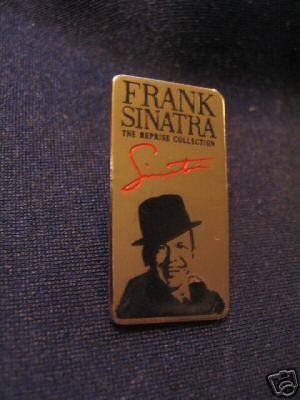 REPRISE PIN
$19.00
This brass "DUETS" pin is a very desirable collector piece.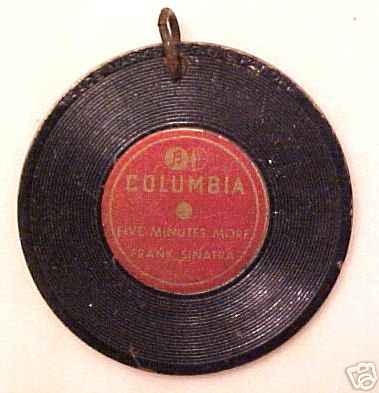 FIVE MINUTES MORE RECORD CHARM with SHEET MUSIC
SOLD!!!!!!!!!!!!!!!!!!!!!!!!!!!!!!!!!!!!!!!!!!![45]This super rare charm goes way back to the 40's. This song was #1 on the charts the month that I was born, September 1946. That makes me OLD!!! It's about 1 1/2" in diameter. Colored like the original record on the front and sort of gold tone on the back. Makes up in a great display or just hang it around one of the Frank dolls.aLSO INCLUDES VINTAGE SHEET MUSIC OF THE SONG!



WHO IS THAT YOUNG GUY ON THE END?
$30.00
SOLD!!!!!!!!!!!!!!!!!!!!!!!!!!!!!!GONE!!!!!!!!!!!!!!!!!!!!!!!!!!!!Bet you never saw this! An original ad from 70 years ago! That's right, 1936 to be exact. This full page ad is in very good condition and suitable for framing. About the size of the popular mags of that era.This was an ad for the MAJOR BOWES Amature Hour (the original American Idol) and Chase & Sanborne Coffee.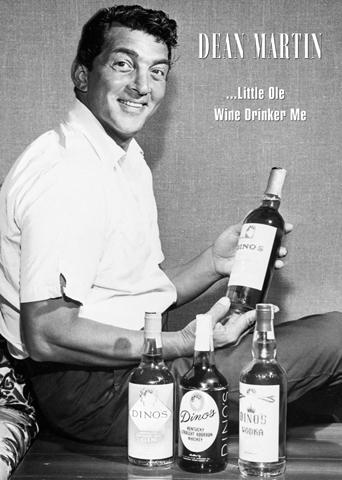 DINO THE " LIL" OLE WINE DRINKER, ME
$65.00
This vintage, 36x24", poster is out of print. It is in perfect condition!!!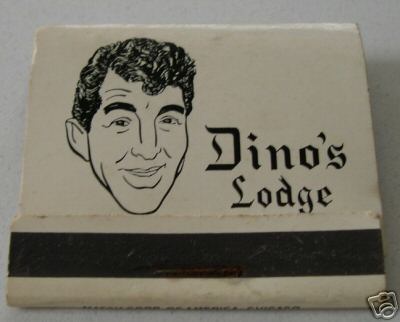 DINO'S MATCHES
$125.00 $95.00 On Sale!
"....77, SUNSET STRIP..snap,snap,snap."Remember the opening credits of that 60's TV show. Kookie, combing his hair and the BIG, SMILEN FACE on the sign shinning down. DINO'S LODGE. These matches are from that famous place on Sunset Strip.And, they are looooong gone!A true "DINO" collectable.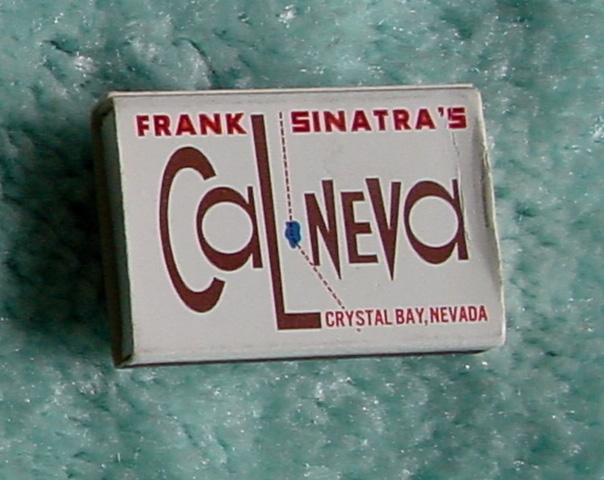 CAL NEVA BOX MATCHES
$0.00
SOLD!!!!!!!!!!!!!!!!!!!!!!!!!!!!!!!!!!![45]These "box" matches are rarer than the books, that are also in demand. As you can see, they have FRANKS logo.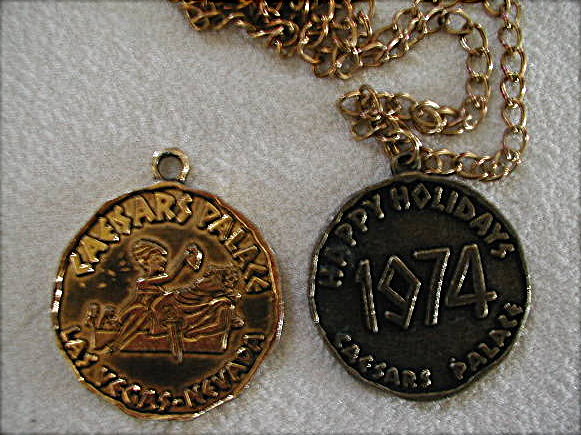 CAESARS PALACE OPENING NIGHT MEDALLION
SOLD!!!!!!!!!!!!!!!!!!!!!!!!!!!!!!!!!!!!!!!!!!!![95]FROM FRANKS FIRST APPEARANCE AFTER HIS RETIREMENT! JANUARY 25, 1974, Caesars Palace, Las Vegas.....Given to special guests, not sold. Aprox 2" in diameter. ***CLICK TO VIEW OTHER SIDE******(ONLY 1 LEFT)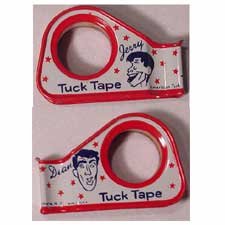 DEAN & JERRY'S TUCK TAPE
$55.00 $40.00 On Sale!
Right out of the 50's baby! This tin tape dispenser was a promotional piece from a tape manufacturer sponser on their TV show. It is really a rare item. Check out the other Martin and Lewis items in Deans catagory!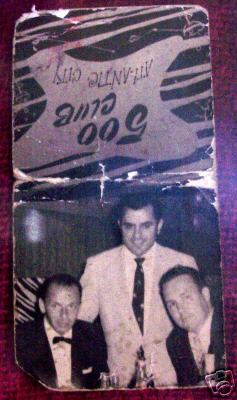 500 CLUB MATCHES W/BONUS CD
$120.00 $95.00 On Sale!
SOLD+++++++++++++++++++++++[95]Back in the day (the early 50's) the photo girls used to make match book souviners for the customers. This group was fortunate enough to have Frank pose with them. A rare find and will look great framed.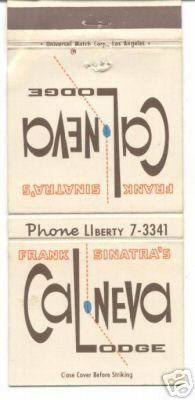 CAL-NEVA MATCHBOOK
$0.00
SOLD OUT[[[[[[[[[[[[[[[[[[[[[[[[[[[[[[[[40]This cover, no matches, is in near perfect condition. Mount with other CAL-NEVA items or just frame alone.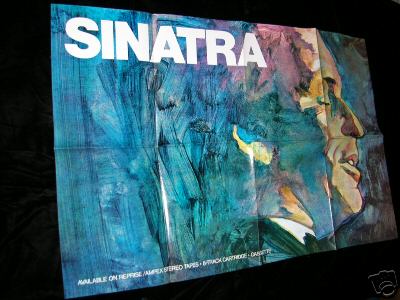 A "RARE" REPRISE POSTER
$100.00
SOLD!!!!!GONE!!!!OUTAHERE!!!!!!!!!!!!!!This rare (24"x35") poster was from the 60's to promote Frank and Reprise records.It was never for sale but used as part of an in-store promo. Still in like new condition, folded just as it was given in the PR kits to various record stores.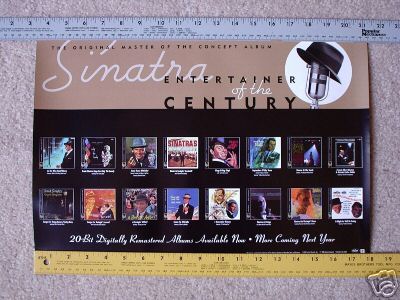 ENTERTAINER OF THE CENTURY POSTER
$50.00 $35.00 On Sale!
SOLD!!!!GONE!OUTAHERE!!!!!!!!!!!This 2 sided poster (18'x12") was used in the stores to promote Frank as the "original master" of the concept album.****CLICK TO VIEW OTHER SIDE***************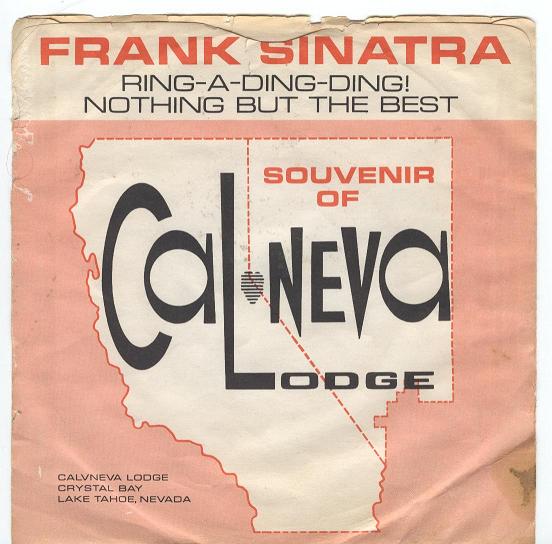 CAL NEVA 45 RECORD COVER
$0.00
SOLD!!!!!!!!!!!!!!!!!!!!!GONE!!!!!!!!![15]This rare 45 "jacket cover sleeve" (no record) was for the limited produced record that was not only the first 45 pressed on Reprise, but was also only available at the Cal Neva gift shop.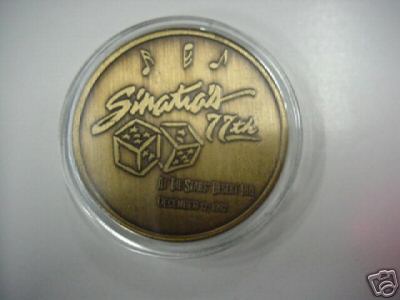 FRANKS "77" BIRTHDAY COIN
$150.00
This rare "GIFT COIN" was given out at the 77th birthday "bash" for Frank at the famous Vegas casino, Stars' Dessert Inn. I have seen these sell for alot more than this at auction. Pair this up with the 77th birthday cards also available on this site.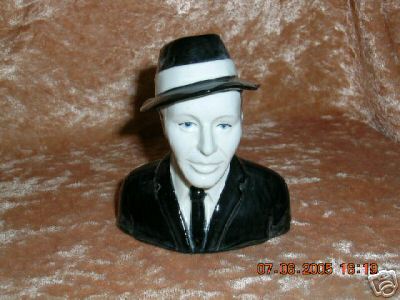 NBC MINATURE BUST
$0.00
SOLD.................[60]This 3 1/2" bust was part of a salt and pepper set (the salt and pepper shaker is also available, in it's intirety, on this page) But the mic (pepper shaker) broke, sorry. It still makes an intersting nic-nac.This was produced in England during the 50's.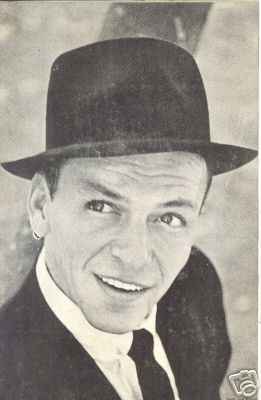 500 CLUB SPECIAL MAGAZINE W/BONUS CD
$55.00 $49.00 On Sale!
This 'limited edition' (5x8) 8 page magazine,( and FREE bonus CD) was produced by Frank Prendergast and Sonny Schwartz. It is full of black and white photos of Frank and friends at the club, and info for a "SPECIAL" engagement at Skinny's place. There is a two page spread promoting the film "A HOLE IN THE HEAD". JUST 1 COPY LEFT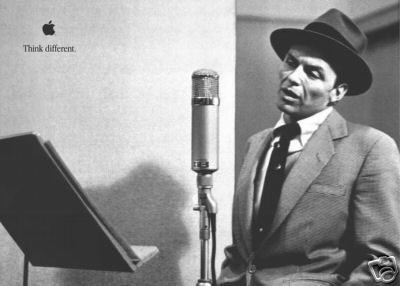 APPLE "THINK DIFFERENT " POSTER
$0.00
SOLD!!!!!!!!!!!!!!!!!!!!!!!HERE IT IS!!!! The poster (24x36") that is both hard to find and insperational. Produced by Apple, and the most popular of their marketing program. Only 1 in stock.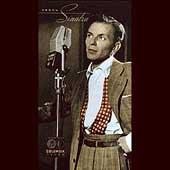 POSTER "THE VOICE" FRAMED
$0.00
SOLD((((((((((((((((((((((((((((((((((((55/This 24x36" poster was for the release of the Columbia Years release. There is a signed copy of the LP album set available under the music heading.Framed and ready to hang.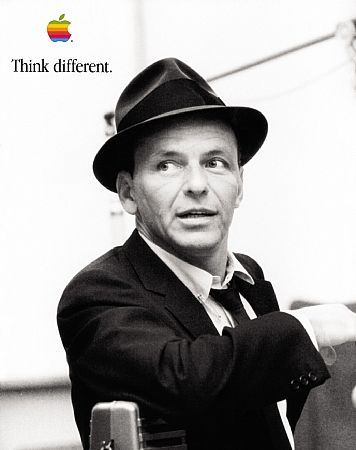 APPLE "THINK DIFFERENT" 18x22 POSTER
$120.00 $95.00 On Sale!
Another "RARE" example of that very desirable Apple promo pose. This one in a larger version of the 8x10.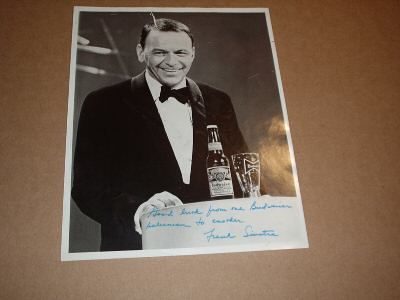 BUDWEISER SIGNED PHOTO ORIGINAL
$220.00
SOLD!!!!!!!!!!!!!!GONE!!!!!!!!!!!!UOTAHERE!!!PREPRINTS ONLY...........This hand signed photo that reads, "GOOD LUCK FROM ONE BUDWEISER SALESMAN TO ANOTHER, FRANK SINATRA'" was given to the 'BUD' execs at the "A MAN AND HIS MUSIC" show party, along with the "A MAN AND HIS MUSIC, II" special, and very collectable, album. Also available on this site.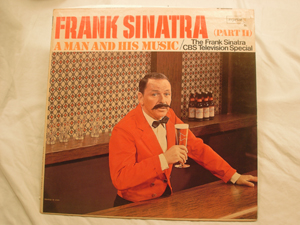 A MAN AND HIS MUSIC (II) w/PHOTO
$225.00 $200.00 On Sale!
This is probably one of the most desirable SINATRA recordings. This cover was never sold. It was offerred to certain distributers of "BUDWEISER" A truely rare example of vintage SINATRA music.With this purchase ia a copy of the signed photo that was given to guest. ******CLICK TO VIEW*****************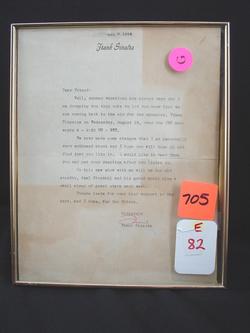 FRANK PERSONALLY SIGNED NOTE 1944
SOLD!!!!!!!!!!!!!!!!!!!!!!!!!!!!!!!GONE!!!!!!!!!!!!!!!!!!!YOU MISSED IT!!!!!!!!!!!!!!!!!Back in the 40's Frank signed these "personal" notes to fans. This typed note, on his stationary, was to announce that the radio show was back on WNEW. And also to promote the sponsers. (THE AUCTION NUMBERS AND CODES ARE ON THE GLASS AND NOT THE ITEM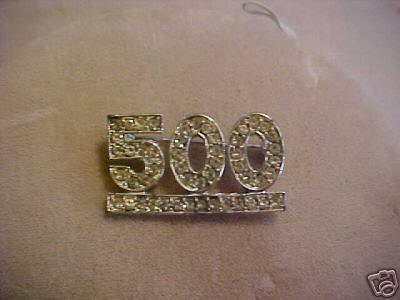 500 CLUB PIN w/BONUS CD
SOLD!!!!!!!!!!!!!!GONE!!!!!!!!!!YOU MISSED IT!!!!!!This 'rhinestone' pin was sold at the club. With it you get a bonus CD.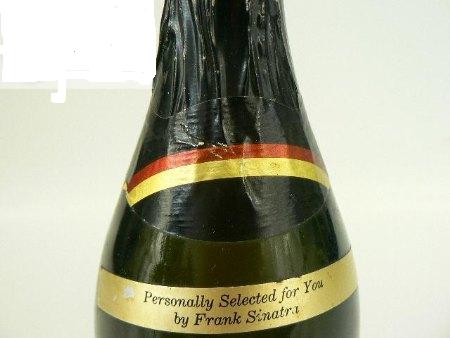 CRESTA BLANCA PERSONAL GIFT CHAMPANGE
$85.00
SOLD!!!!!!!!!!!!GONE!!!!!!!!!!!OUTAHERE!!!!!!!!!!!!!!!This SUPER RARE PERSONAL gift, from Christmas of 1979, champange from Frank. A very special gift for very special friends. This unopened bottle of 'CRESTA BLANCA' sold for alot more than what I'm offerring. This was made for Frank, by one of his favorite vinyards. ******CLICK TO VIEW BOTTLE**********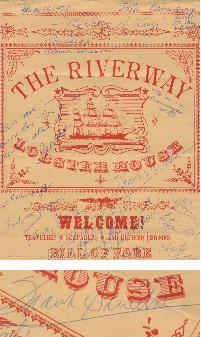 SIGNED MENUE
$280.00
GONE!!!!!!!!!!!!!!!!!!!OUTAHERE, SO QUICK!!!!!!!!Of course Frank had to eat on the road. This menue was a collection of all the celeb's that stopped here.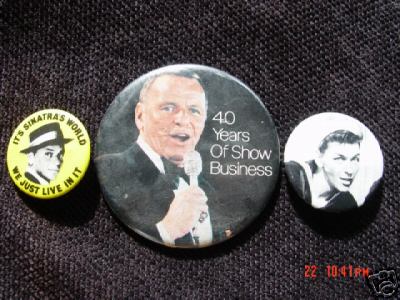 40 YEARS SHOW BUSINESS PINBACK
$35.00
This 3" pinback was given out at Caesars Palace during the December 1979 engagement. A very "RARE" find.(OTHER PINS NOT INCLUDED)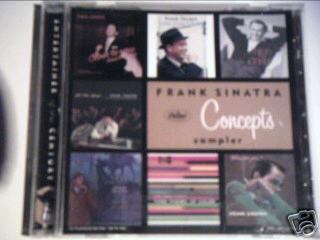 FRANK SINATRACONCEPTS SAMPLER CD
$25.00
This sampler is from the Capital Concepts series. Only 7 songs, from the 16 album set, are in this, never sold-promotional use only CD. It was given to radio stations in 2001.Great listening, it's playing as a type this."....drift by my window, the Autmn leaves of red and gold."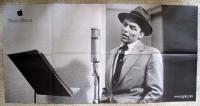 APPLE BROCHURE wS/INATRA "THINK DIFFERENT"
$0.00 $45.00 On Sale!
SOLD>>>>>>>>>>120Back in the 90's Apple used images of well known people as part of their "Think Different" advertising campainge. This 12x12" brochure opens up to the HIGHLY collectable 24x48" Sinatra poster.***************CLICK TO VIEW MORE**************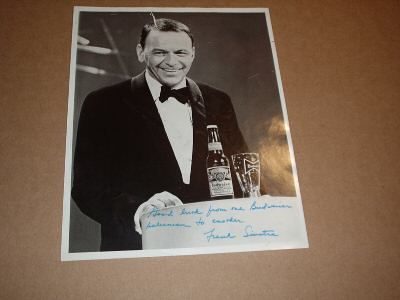 BUDWEISER SIGNED PREPRINT
$15.00
This is a copy only.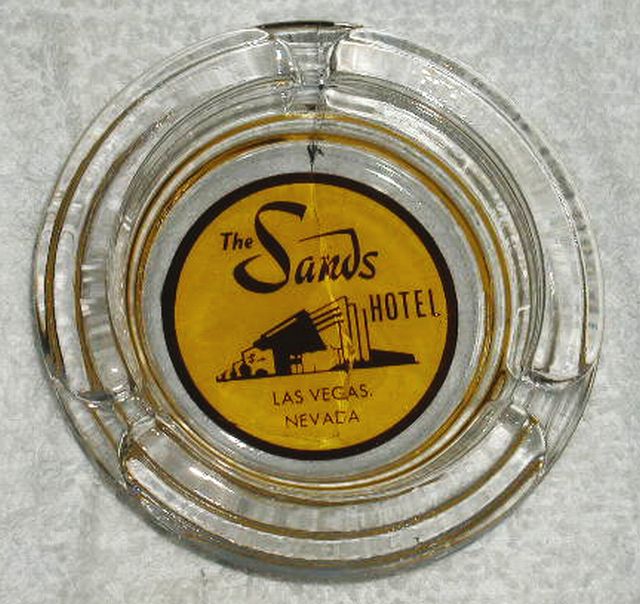 SANDS ASHTRAY-60'S w/SANDS MATCHES
SOLD!!!!!!!!!!!!!!!!!!!!!!!!!!!!!!!!!!!![55]This vintage ashtray, as shown,is from the 60's. When Vegas was the 'only' game in town.A great piece to build a story around or just put it on your bar. Comes with vintage Sands matches.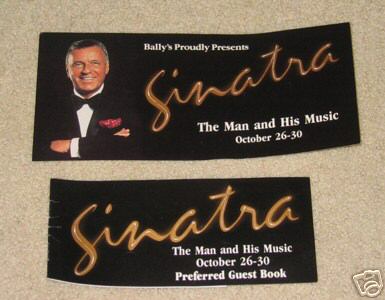 BALLY'S POST CARD & PASS
$12.00
SOLD!!!!!!!!!!!!!!!!!!!!!!!!!!GONE!!!!!!!!!!!!!!!!!!!!!!!!!!This post card and pass are from an engagement at Bally's Casino. Would make a great wall mounting story.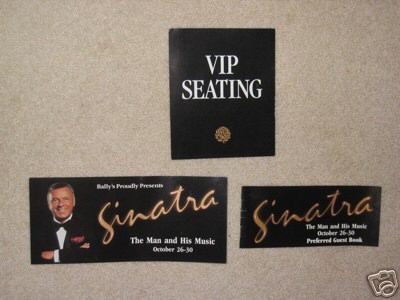 BALLY'S VIP, POST CARD & PASS
$15.00
SOLD!!!!!!!!!!!!!!!!!!GONE!!!!!!!!!!!!!!!!!!!!!!!!!!!OUTAHERE!!!!!!!!This set includes the VIP seating.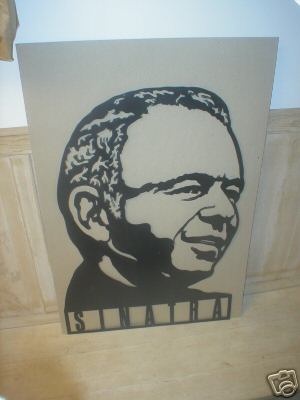 LARGE BLACK PLASTIC CUT OUT
$185.00 $165.00 On Sale!
This "RARE" black siluette was used for the promotion of the TRILOGY ALBUM. The photo does NOT do it justice. At 32x22" the piece makes a "COOL" statement. And, looks stunning against any color wall. Two punched holes from the manufacturer make it easy to display this one of a kind item.Slight tear that can easily be repaired.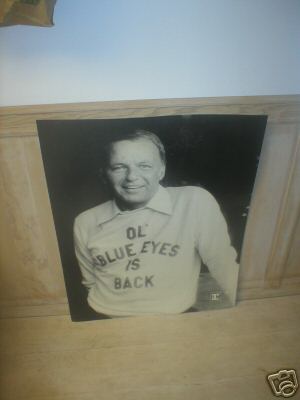 LARGE REPRISE POSTER
$60.00
This 27x25" hard cardboard poster in black and white was used to promote Frank when he came out of retirement in the early 70's. He was back!!!!!!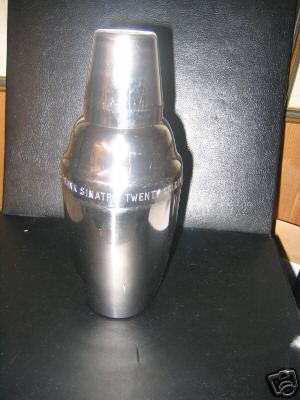 SINATRA MARTINI SHAKER
SOLD!!!!!!!!!!!!!!!!!!!!!!!!!!!!!GONE!!!!!!!!!!!!!!!!!!![110]This is the 'ultimate piece' for your bar! These were never offerred for sale. They were given out by Reprise Records to record store ownners that had high sale for Sinatra's return LP after retirement comeback.**********CLICK FOR CLOSE UP********************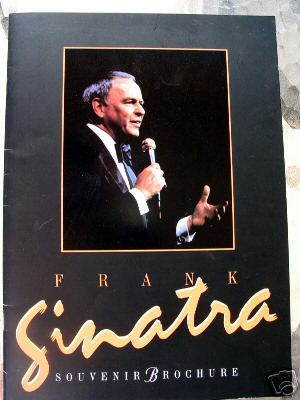 SOUVENIR BROCHURE
$35.00
This rare 10" x 14" program has 28 full color pages of photos depicting the mans career. From the 80's, but is in pristine condition...extremly rare!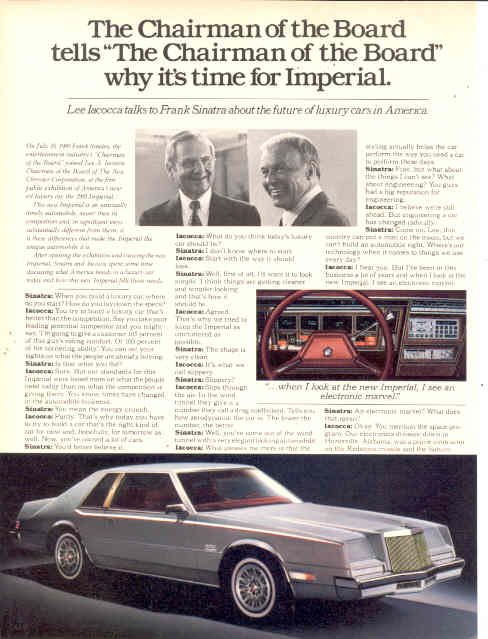 CHRYSLER IMPERIAL "SINATRA" EDITION AD
$0.00
SOLD!!!!!!!!!!!!!!!!!!!!!!!!!!!!This rare, 2 page ad, from the 80's introduces the "SINATRA" edition. Imagine that, they created a car for him. Only a few thousand were produced. and they are very collectable, selling for under 10 large in perfect shape. Some day, when I sell all this other Sinatra stuff, I'm gonna get me one!**************CLICK TO VIEW****************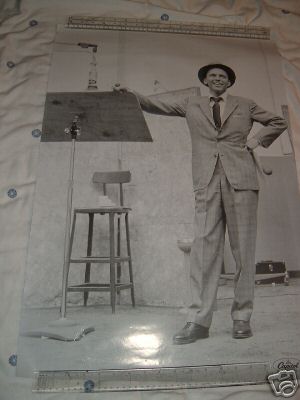 VERY, VERY RARE CAPITAL RECORDS POSTER
$75.00
SOLD!!!!!!!!!!!!!!GONE!!!!!U MISSED IT!!!!This rare 20"x30" B&W poster, totally 'exemplifys' Mr. S from the 50's.Near perfect condition!!!!!!!!!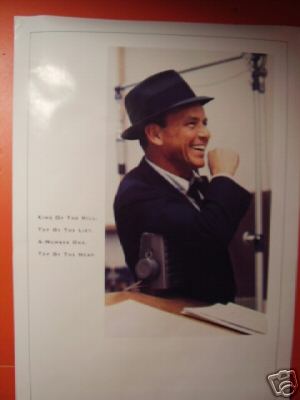 CAPITOL "KING OF THE HILL" POSTER
SOLD!!!!!!!!!!!!!!!!!!!!!!!!!!!!!!!!!!!!!!!!!!!![60]Rare Capitol Records 20" x 30" poster. Along the side it reads ............"King Of The Hill,, Top Of The List, A-Number One, Top Of The Heap." Truely a 1 of a kind!Great image!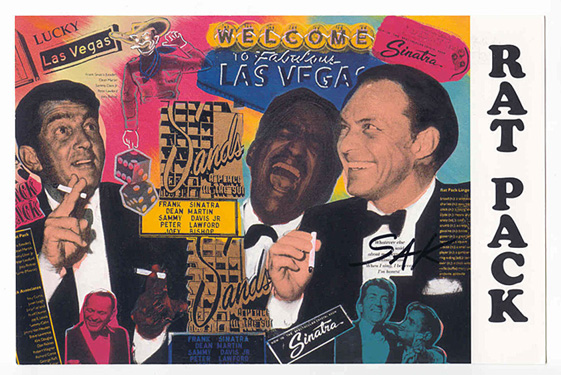 RAT PACK "GALLERY CARD" SIGNED BY KAUFMAN
$0.00
SOLD[[[[[[[[[[[[[[[[[[[[[[[[30]This vibrant, full color gallery post card is in excellent condition. Kauffman, aka: SAK, trained under Warhol, and was granted permision to use the Rat Pack and Sinatra images. Did you see the "ORIGINAL" SAK the I offer?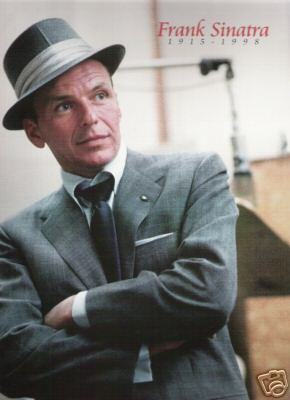 PHILA DAILY NEWS MEMORIAL PHOTO
$20.00
This 10" x13" photo is ready to frame.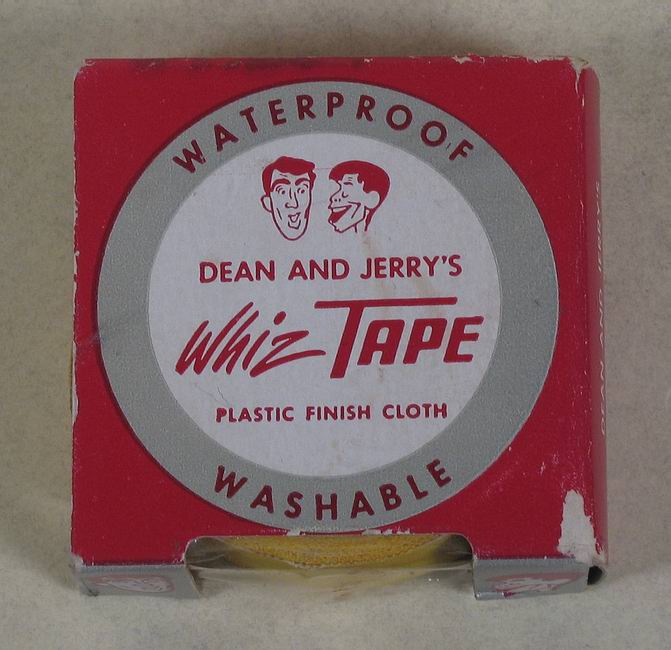 DEAN AND JERRY'S "WHIZ" TAPE
$70.00 $55.00 On Sale!
This reare product, from the early 50's, is intact and in it's original box. The yellow "DECORATER" tape was promoted to be used for repairs, sealing, and decorating. These guys were HOT and they endorsed alot of commercial products. Most were sponsers on their radio and TV broadcasts.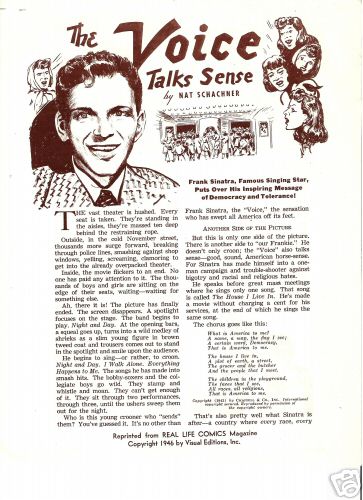 THE VOICE "TALKS SENSE" FAN CLUB HAND OUT
$16.00
This 2 sided fan club hand out is frm 1945. It is a promo piece that was given out to the young members, and told of Franks position politics of that day. Was used to promote the film and the song "The House I Live In"++++++++++++++++CLICK TO VIEW OTHERSIDE+++++++++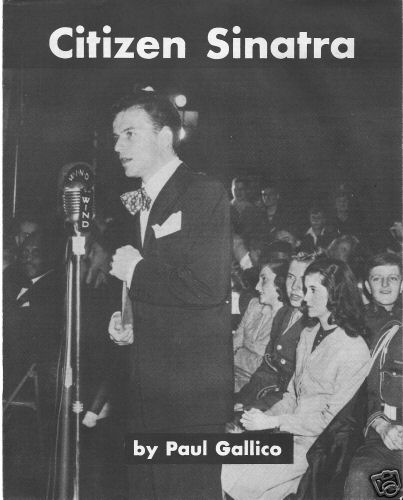 CITIZEN SINATRA 1946
$18.00
This rare 4 page,8"x10", news letter was another promo piece aimed at the younger generation of that day. "Crooning into a microphone is one thing, but to lay your career on the line, as Frank Sinatra has, in a one-man war on intolerance calls for a fighting heart. He has it!" This is the opening quote in this RARE and timeless piece.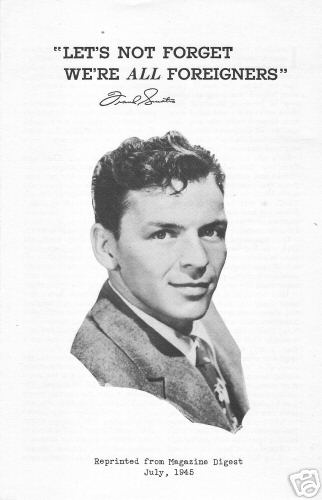 LETS NOT FORGET WERE ALL FOREIGNERS" HANDOUT
$16.00
This 4 page 5"x8" handout is from July, 1945. And gives the same message about "GETTING TOGEATHER WITH OUT PREDJUDICE"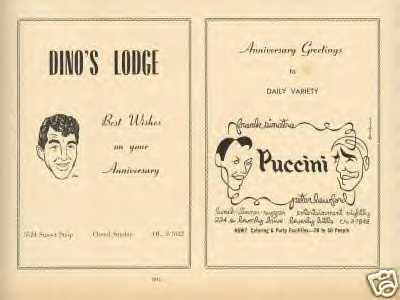 TOGEATHER AD "DINO'S LODGE & PUCCINI'S"
$65.00
This RARE ad appeared 1 TIME ONLY in a local LA charity booklet. The page is 8"x 10", but the ad is a 1/2 page. You will not see this again!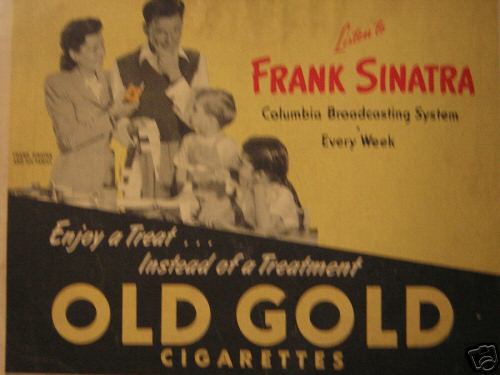 VINTAGE "OLD GOLD" AD WITH ENTIRE FAMILY
SOLD!!!!!!!!!!!!!!!!!!!!!!!!!!!!!!!!!!!!!!!![100]This 14"x 17", har cardboard ad, has the entire family [befor Tina] endorsing OLD GOLD and ciggy smoken'. Not politically correct today!This ad dates back to the mid 40's. Sixty years old.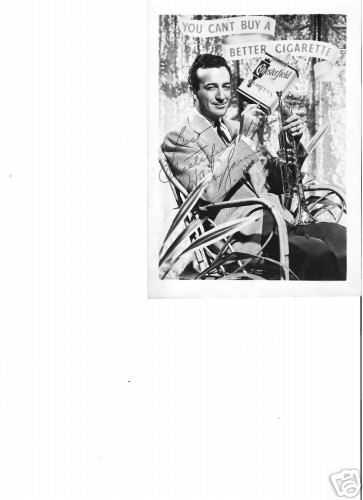 HARRY JAMES, HAND SIGNED CHESTERFIELDS AD
$175.00 $125.00 On Sale!
This 5"x 7", hand signed by Harry James promoets CHESTERFIELDS. It was part of the drill back in the day to autograph sponsers. A 'commercial' of sorts, if you will!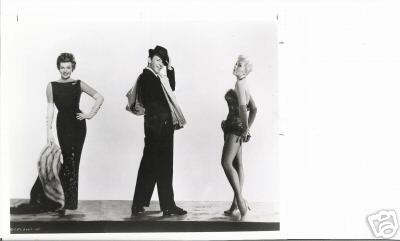 PAL JOEY AD/NEWSPAPER PHOTO
$20.00
SOLD!!!!!!!!!!!!!!!!!!!!!!!!!!!!!!!!!GONE!!!!!!!!!!!!!!!!!!!!!This was THE photo that was sent to the newspapers art department, to create ads for the release of the movie.This shows Frank at the epitome of his image. This is the only photo, and you get the original! No copies.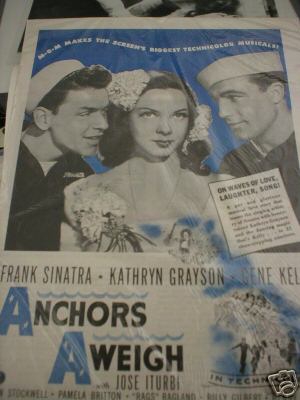 ANCHORS AWAY CARDBOARD AD
$20.00 $17.00 On Sale!
SOLD!!!!!!!!!!!!!!!!!!!!!!!!!!!!!!!!!!!!!!!!!!!!!!!!!!!!!!This rare 8"x 10" ad is in near perfect condition. Not a reproduction!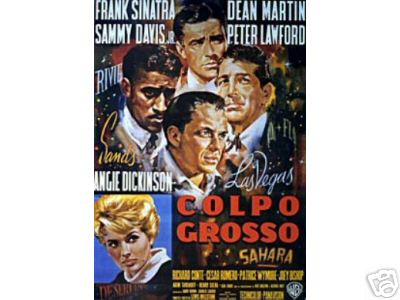 "ITALIAN" OCEANS ELEVEN
SOLD OUT!!!!!!!!!!!!!!!!!!!!!!!!!!!!!!!!!!!!!!![55]It doesn't get much cooler than this! A RARE 'out of print' 27"x 40", reproduction of the Italian poster of the movie, that WAS Sinatra, Martinand the Gang, during the 60's. I've got 2, but one stays.CAPIECE!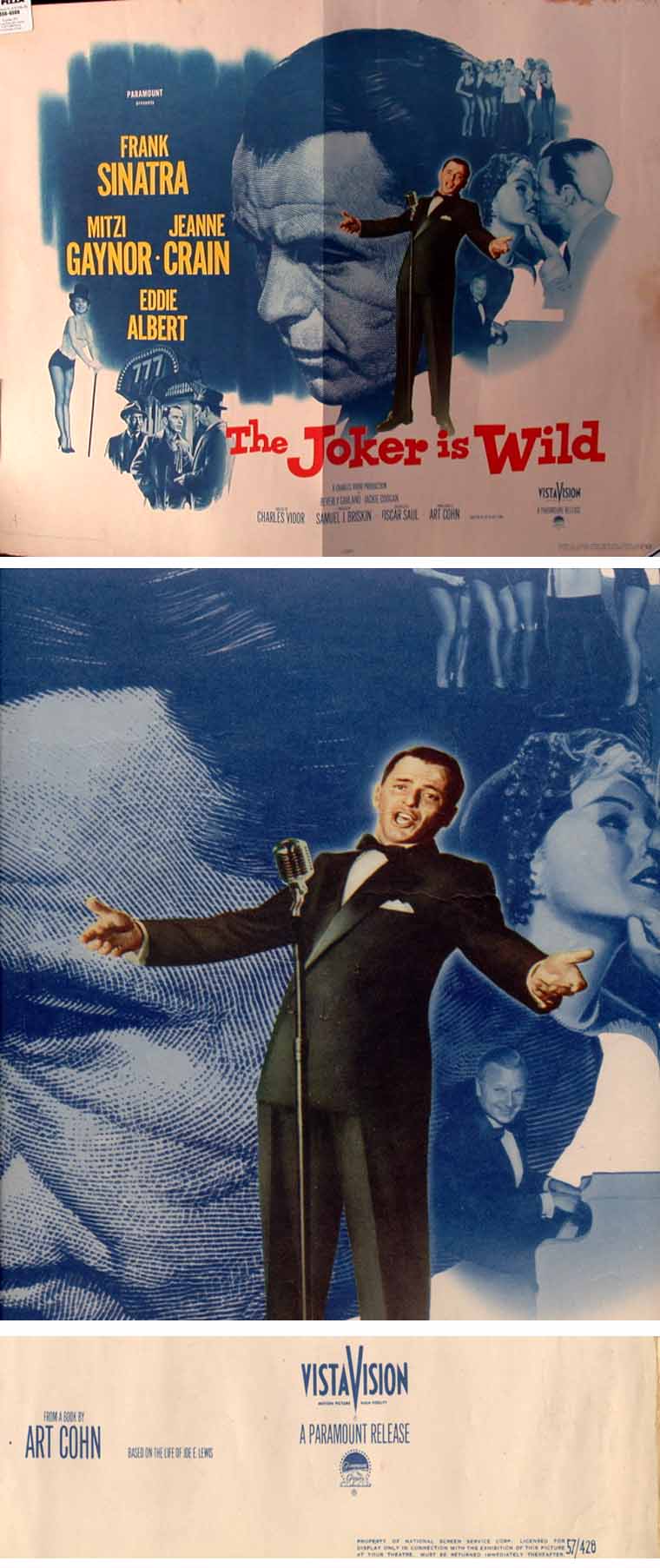 "JOKERS WILD" ORIGINAL POSTER
$200.00
This original one half sheet, 22"x 28", poster is in very good condition.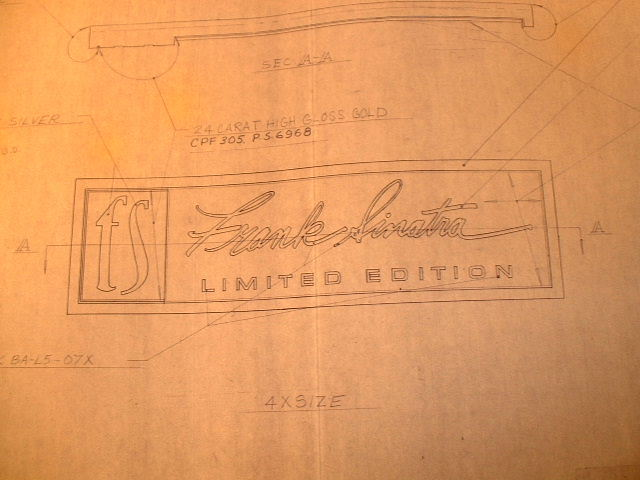 CHRYSLER IMPERIAL SIGNATURE BLUEPRINT
$0.00
SOLD!!!!!!!!!!!!!!!!!!!!!!!!!!!!!!!!!!!!!!!!!!!!!![180]This is the ONLY one in the world. The actual blue print used to create Frank's signature on the emblum of the special edition Imperial, 1980-1982. This was THE signature that Frank used as a logo for all his indorsed products. This makes a stunning piece simply mounted and framed.************CLICK TO VIEW THE ENTIRE PIECE*********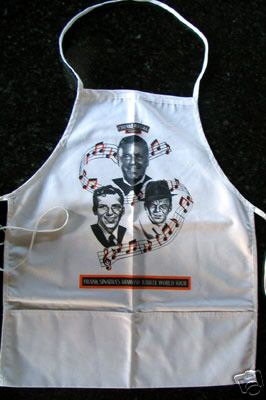 TRIBUTE APRON
SOLD OUT!!!!!!!!!!!!!!!!!!(25) This rare tribute apron was from the CHIVAS REGAL DIAMON JUBILEE TOUR. Brand new condition, never used,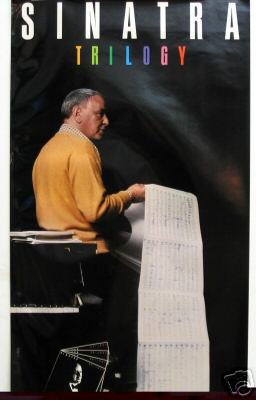 TRILOGY POSTER
SOLD!!!!!!!!!!!!!!!!!!!GONE!!!!!!!!!!!!![60]This magnificent 21"x 38" poster would look great with a simple black frame. This was a poster that was given to record store to promote Franks album. This Lp turned out to be Franks last studio session on the Reprise label.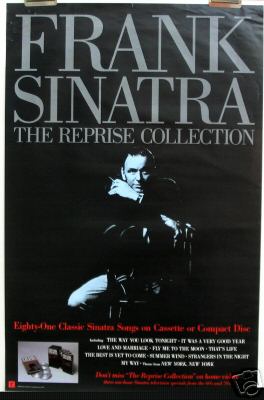 REPRISE COLLECTION POSTER
$30.00
This 23"x53" poster was used as display in the record stores. It is in perfect condition.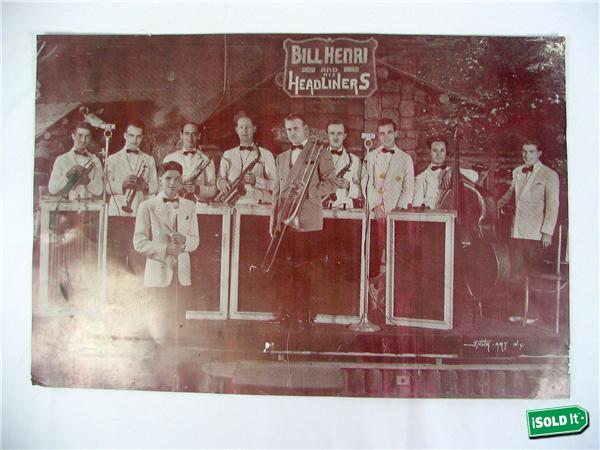 TIN SIGN "RUSTIC CABIN"
$300.00 $225.00 On Sale!
This rare piece was used to promote the Rustic Cabin. Not Frank Sinatra. Frank was 18 and singing there when Harry James first heard him. The rest is history!The tin backed photo measures 21 1/2"x15 1/2"




CHRYSLER LOGO
$0.00
SOLD!!!!!!!!!!!!!!!!GONE!!!!!!!!!!!!!!!!!![125]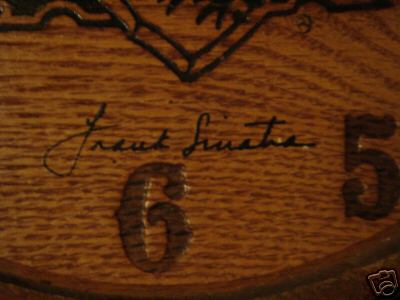 WOODEN BUSH CLOCK
$0.00
SOLD********************[175]This really rare promo from Budweiser was given to distributers during the 'A MAN AND HIS MUSIC' era. *****CLICK TO WIEW MORE********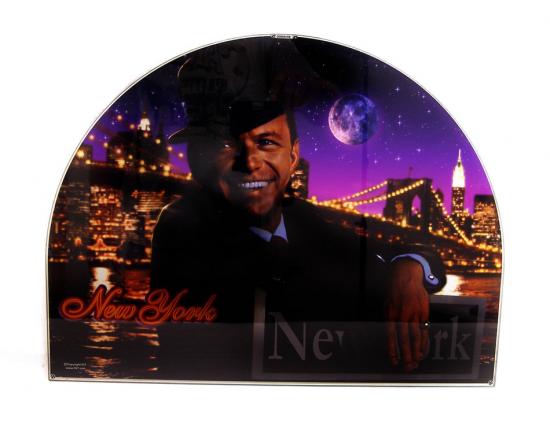 NEW YORK SLOT MACHINE GLASS
SOLD!!!!!!!!!!!!!!!!!!!!!!!!!!!!!!!!![275]THIS RARE AND PERFECT SLOT MACHINE GLASS WILL MOUNT BEAUTIFULLY BY ITSELF OR IN A SLOT THAT YOU MAY HAVE. THIS 24X24 PIECE, FROM A LIMITED VEGAS ONLY RUN, IS IN PERFECT CONDITION.