ART FORMS / VARIOUS TYPES BY SINATRA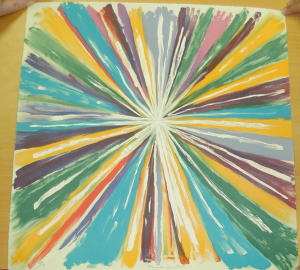 "WITCHCRAFT" #30/150 w /SIGNATURE
$0.00
SOLD((((((((((((((((((((((2600] This lithograph was made and signed by Frank (((CLICK TO VIEW))))in the mid 90's. Only 150 (#134/150 HANGS IN MY HOME) of these were published.Due to Franks condition at the time, not all were signed. In total there were five different paintings that Frank made lithographs of, and he signed as many as he could. This was my favorite,"Witchcraft". A very rare find.#30/150 [approx 20x20"]unframed, comes with COA from gallery and publisher.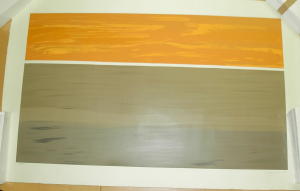 "THE DESERT" #27 of 100
$0.00
SOLD(((((((((((((((((((((((((((3500)This is a (HAND SIGNED AND NUMBERED BY FRANK IN PENCIL) serigraph,#27 of 100, of the first painting Frank painted. The original painting hangs over the fireplace at Rancho Mirage. Serigraph #1 of 100 hangs over FRANKS master bedroom bed,#5 hangs in my home. This is a rare opportunity to own a piece of "real" Sinatra memrobelia. Only 100 of these exist, they were given out to special friends in the early 80's. WILL APPRECIATE OVER TIME.***CLICK TO VIEW SIGNATURE*******(31x48)unframed.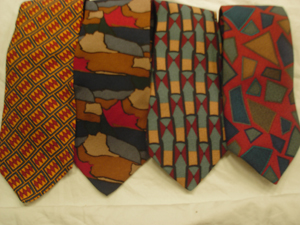 SINATRA DESIGNED TIES
$35.00
Yes, the man was a textile designer also. Did you check out the rugs? Your choice, priced per tie.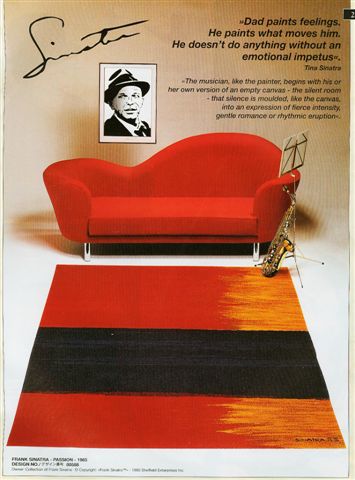 "PASSION" 6x9 AREA RUG/WALL HANGING
$0.00
SOLD OUT!!!!!!!!!![1150]This is a beautiful 6x9 area rug, limited edition #3. Sold at Bloomingdale's fine rug department. Frank really did some very cool things. Imagine, designing rugs.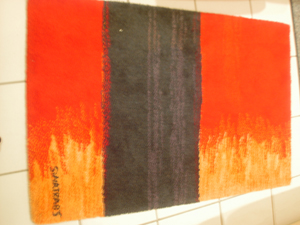 "PASSION" 3x4 SMALL RUG/WALL HANGING
$0.00
SOLD!!!!!!!!GONNA MISS IT!!!!!![595]Actually measures 2'8''x4'. Still a stunning piece. Same color and description of larger one. This is #46. I do not know how many were produced. These are the only two that I ever came across.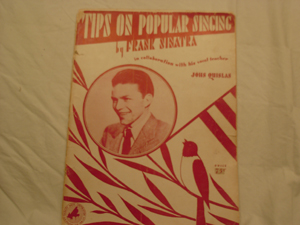 SINATRA'S FIRST BOOK
$400.00 $325.00 On Sale!
"TIPS ON POPULAR SINGING", published in 1941, in collaberation with his vocal teacher, John Quinlan. A 32 pagebook about the same size as sheet music. Inside, the forward by Tommy Dorsey, are instructions on breath control, and mouth positions.All the secretsto make you the next "VOICE".*****THIS WAS APPRAISED AT OVER $400. THIS IS ONLY THE SECOND ONE THAT I HAVE EVER HAD....A REAL TREASURE!******CLICK TO SEE INSIDE COVER************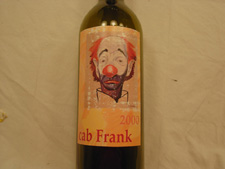 FAS WINE ART LABEL
$75.00
EMPTY!(hic)But, rare. This bottle's lable is from an early painting that Frank did. His printed signature (not hand signed)is on the lower right side of painting. A really rare and unique item.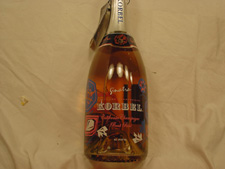 KORBEL CHAMPANGE
$70.00
Afull bottle with original art by FAS.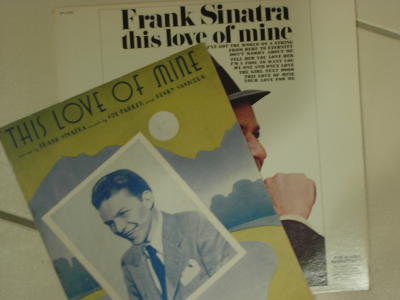 "THIS LOVE OF MINE" COMBO WITH RECORD
$55.00
A great opportunity to create your own wall display. As you know " all interesting displays should tell a story." This one sure does. This is the sheet music of the FIRST song Frank wrote with a 33 1/3 LP of the same title. Will definetly make a "cool" statement.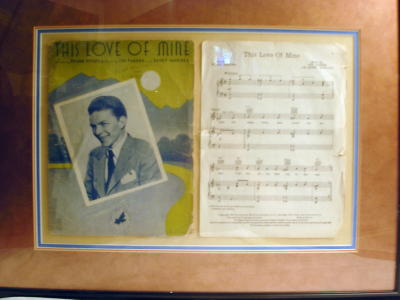 FIRST SONG COMPOSED AND HAND SIGNED BY FRANK
SOLD!!!!!!!!!!!!!GONE!!!!!!!!!!!!!!OUTAHERE!!GONNA MISS THIS ONE!!!!!!!!!!!!!!!!!!!!![775]"THIS LOVE OF MINE" (SHEET MUSIC & RECORD) Frank Sinatra (hand signed in pencil) composed this song in the 40's. It was the first time he penned the lyrics to a song,and the song was a standard of his for sometime. The sheet music is also signed by Paul Winchell and Jerry. Professionally framed with signature area highlited by etched framming in the glass.BONUS! 45 EP of same song in perfect condition.Also, a rare find.****CLICK ON PHOTO TO SEE DETAIL OF SIGNATURE.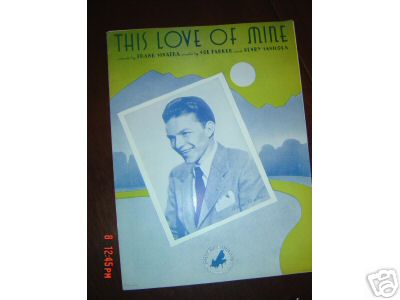 SHEET MUSIC "THIS LOVE OF MINE"
$20.00
This is just the sheet music to the FIRST song that Frank ever penned. Thats what makes this so special.Check out the other combos with this piece that i have listed.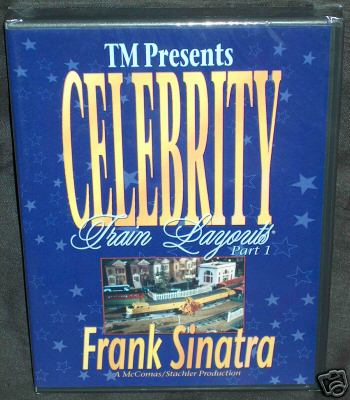 CELEBERTY TRAIN LAYOUTS DVD
SOLD!!!!!!!!!!!!!!!!!!!!!!!!!!!!!!!!!![10]This detailed DVD shows Franks collection and layout. Also shows, in detail, his famous "caboose" train house in Palm Springs.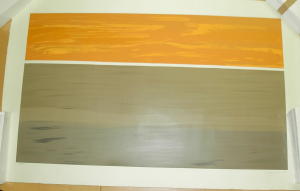 "THE DESERT " #98/100
$0.00
SOLD<<<<<<<<<<<<<<<<<<<<<[2500]This find was extremly unbelievable! The person that this was given to did not know what they had. Frank only gave away a total of 100 of these, his first and favorite piece, to folks that were special to him in 1984. Who ever this one was given to folded it in threes and put it away. Its not that bad but the folds will take time to flatten out. This is a great piece at a fraction of it's appraised value of $3500.(31x48 unframed)***CLICK TO SEE MORE*****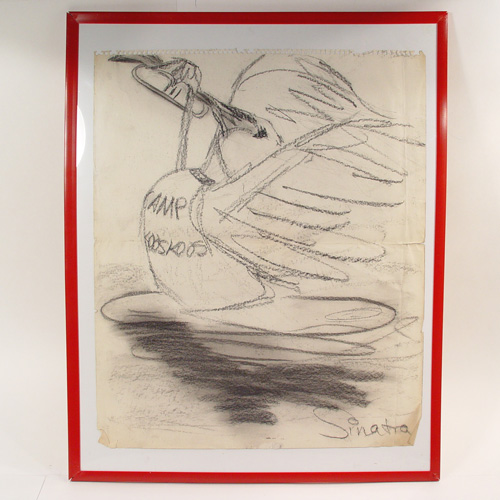 FRANK SINATRA ORIGINAL art HAND DRAWN SKETCH
$0.00 $2,250.00 On Sale!
KOO KOOS ......SOLD SOLD SOLD 2250..Frank loved to sketch and doodle during idle times and even more,during idle conversations. I picked this piece up at an estate sale in Arizona. The person that owned it was a good friend and golfing buddy ( comes with a letter of authenticity) of Franks. He sketched it no doubt in the 60's.It's was framed immediatly and hung in a private office. He used to refer to people he didn't care for as "koo-koos". Obviously the person Frank was drawing was "..leading the charge!"**CLICK TO SEE MORE********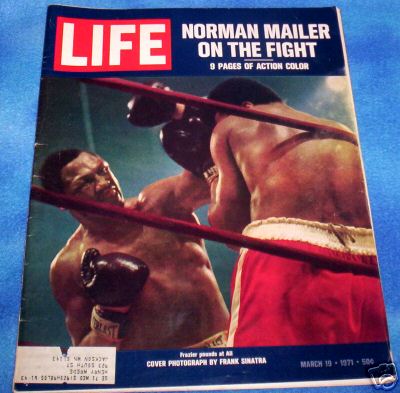 "LIFE" MAG COVER AND PHOTOS
$17.50 $12.50 On Sale!
The man was a photographer as well. He has a spread in this mag of the ALI-FRASIER fight. I have had the good fortune of meeting both of these great fighters. Joe, is from Philly ( I briefly owned one of his cars, a '58 white RR,) and Ali lived in the area during the 70's. Frank sat ringside (what else is new) and was commissioned by LIFE to shoot the match. The issue is full of great photos.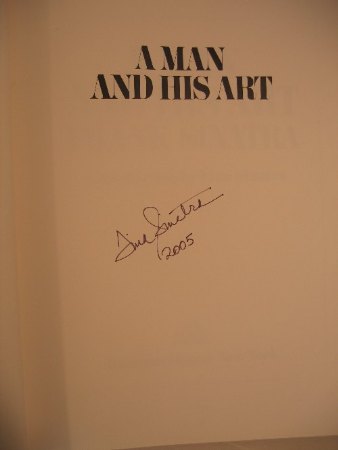 "A MAN AND HIS ART" SIGNED BY TINA
SOLD OUT!!!!!!!!!!!!!!!!![65]This book of Franks art was written and hand signed by Franks daughter, Tina Sinatra ****CLICK TO SEE MORE*****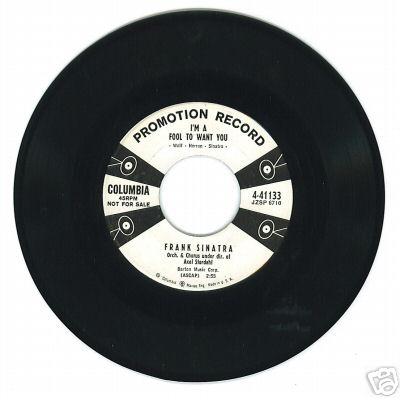 PROMO OF FRANKS SECOND WRITTEN SONG
$40.00
This 45 promo "If I Forget You" is backed with the second song that Frank wrote "I'm A Fool To Want You" with Alex Stordahl and chorus. It is in very good condition and would frame up nicely.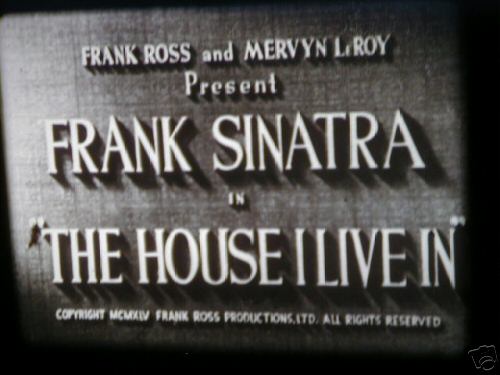 MOVIE & 78 "THE HOUSE I LIVE IN"
$0.00
SOLD====================[160]This is a 16mm original movie reel. Not just any movie..The movie that Frank got his first "OSCAR" (Acadamy Award) for his role as a young singer trying to get some kids to unite, and be Americans. Not to be predjudice about race, religion, or nationality. It also got the attention of the "PINKO POLICE" that watched Franks activities for a decade or so.ALSO included is a, in perfect condition, 78 record of the song.********CLICK TO VIEW MORE**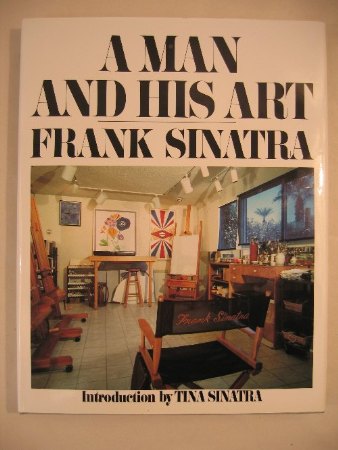 A MAN AND HIS ART SINATRA BOOK
$40.00
This highly sought after, out of print book, is in like new condition. It has color photos and descriptions of most of Franks paintings. A real in depth look at the man.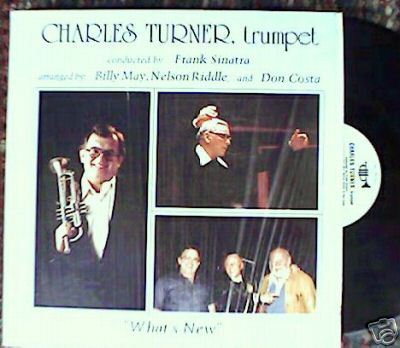 JAZZ TRUMPET
SOLD!!!!!!!!!!!!!!!!!!!!!!!!!!!!!!!!!!!!![25]Frank conducts his rythm section and orchestra, as his favorite trumpet player 'blows' the all to familiar tunes. No vocals on this RARE 33 1/3 LP. Never played, perfect jacket.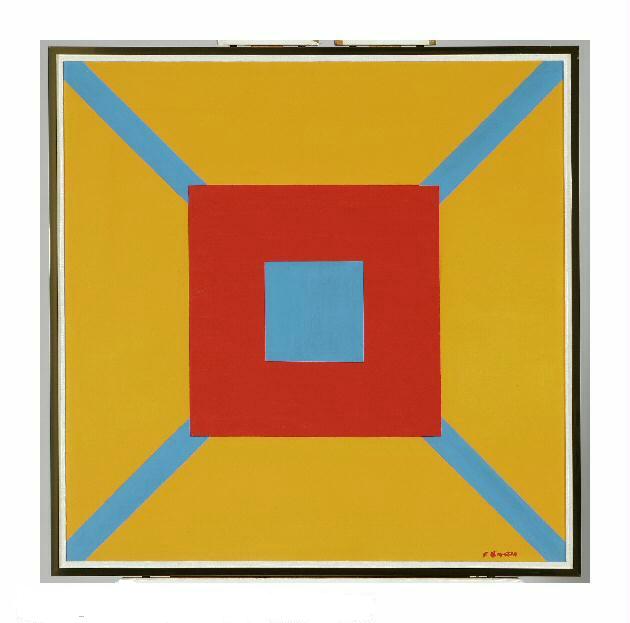 FRANK SINATRA ORIGINAL ART LAST OIL PAINTING
$125,000.00
In May of 1992, shortly after Sinatra completed this painting, he received the tragic news that Jilly Rizzo, his dearest friend, had died in a car accident. Tony Oppedisano (who was introduced to Frank by Jilly 20 years earlier and was very close to both men)had the painful task of delivering the news to Frank. Tony shares, "After Jilly's death, I never saw him [Frank]pick up a paintbrush again." The devistation of Jilly's passing and Sinatra's own subsequent vision problems effectively ended his enjoyment of a 50 year old passion.This bold work, according to his trusted friend Tony, is the last finished Sinatra painting.>>>>>>>>>>CLICK TO VIEW<<<<<<<<<<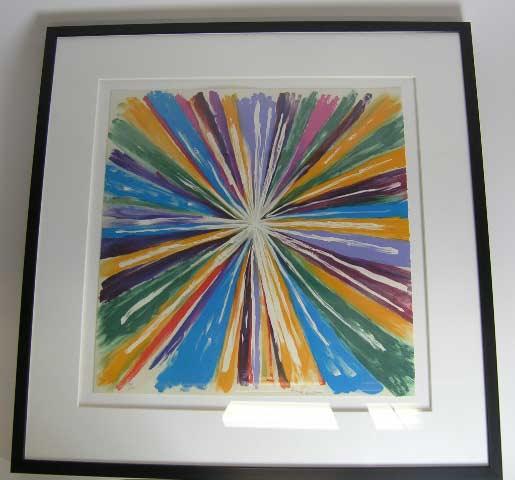 "WITCHCRAFT" #134/150 w/SIGNATURE FRANK SINATRA ART
$5,800.00
This professionally matted and framed piece is from my private collection.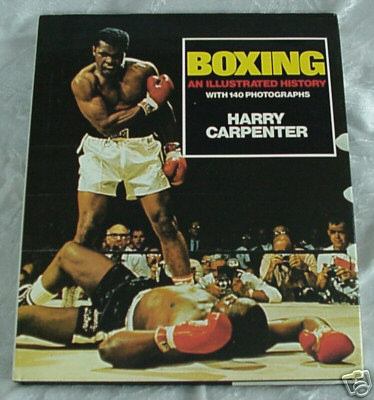 BOXING "AN ILLUSTRATED HISTORY"
$22.00
TThis rare book of boxing history has 140 photos. Some taken by FRANK, including the cover shot. Would go nicely with the Life mag that Frank also shot.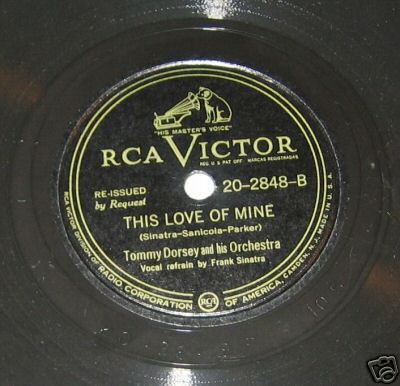 "THIS LOVE OF MINE" 78 w/SHEET MUSIC
$65.00
This perfect 78 of the FIRST song that Frank got credit for composing. Would make up nicely with the sheet music, and a vintage photo. Only copy of this 78 that I have.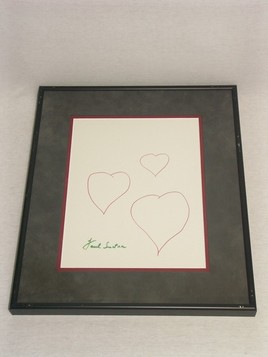 FRANK SINATRA HAND SIGNED DRAWING "HEARTS"
$7,500.00
This 8x11" drawing (Professionally matted and framed to 13x16')was for a charity event in the early 90's.Frank never sold his art, he always gave it away to friends or for charity. This is a beautiful example of his work.Three floating hearts in red on white paper. Hand signed , by Frank, in green ink.