SWINGING YEARS (CAPITOL YEARS)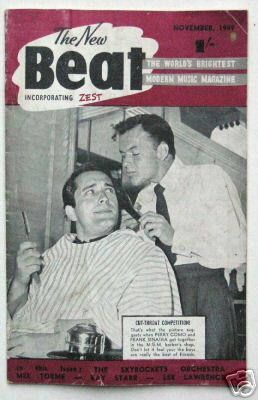 PERRY COMO "Frank, a little off the top, please."
$60.00
FRANK SAYS " Looks like thats all you have, is a little!" This rare magazine, from the 40's, is really great. Also included is an AUTOGRAPH(((((((((CLICK TO VIEW SIGNATURE)))))))))of Perry Como. I picked this up because I'm a barber!Like most of my stuff, I don't care if it ever sells.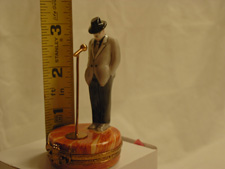 LIMOGES "SINGER"
$0.00
SOLD(((((((((((((((((((((((((150)This is a miniture (3")hand painted singer at the mic, mounted on a hinged box. It does not say or claim to be Sinatra. But, the essence of the "MAN" is there. Both beautiful and delicate. Signed by the artist.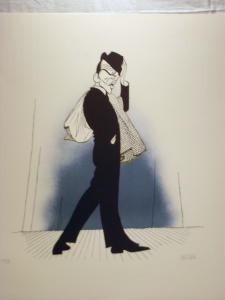 "PAL JOEY" ARTIST PROOF
$3,000.00
AN ORIGINAL UNFRAMED HIRSCHFELD,SIGNED AND NUMBERED 1x/xx/150 ARTIST PROOF(1 LEFT)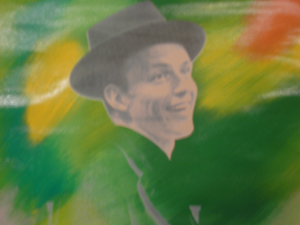 FRANK by KAUFMAN (SIGNED)
$650.00 $525.00 On Sale!
Steve Kaufman signed (SAK) this 29"x35" piece. On canvas and must be stretched to frame. Beautiful example by this Warhol trained artist.Priced well below the galleries of Vegas and NYC.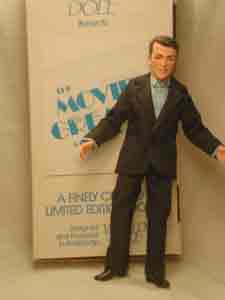 FRANKIE MACHINE DOLL
$165.00 $95.00 On Sale!
This (18") WORLD DOLL of FRANK was for the role he played in "...GOLDEN ARM". Limited production all dolls numbered. In original box. This was the first doll of FRANK, long befor the Franklin Mint version. Will appreciate for sure.Only 3 left.******CLICK TO VIEW MORE**************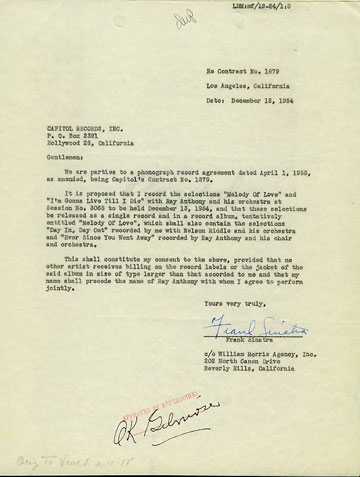 SIGNED CAPITAL RECORDS CONTRACT "CONCEPT ERA"
$0.00 $1,075.00 On Sale!
SOLD(((((((((((((1075)INCLUDES THE 45 RECORD!!!!(NOTE: THIS CONTRACT WAS SIGNED ON FRANKS 39th, BIRTHDAY, DECEMBER 12, 1954)This is the agreement that Capital and Frank signed, that was at the begining of a "NEW ERA" for Frank. This contract was consent to record a 45 single, "I'm gonna Live Till I DIE" b/w "Melody Of Love" with Nelson Riddle and Ray Anthony. The start of the "CONCEPT" album era, when Frank started to get control of the type of music he wanted record. This was purchased at auction from the estate of a Capital Records executive. This piece will look great with a copy of the record that is also included in the price. ***************CLICK TO VIEW RECORD*************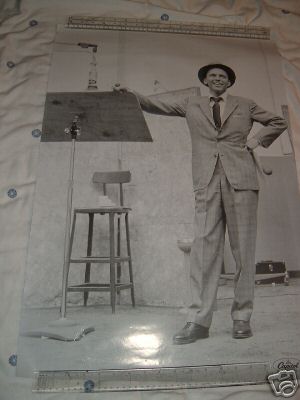 VERY, VERY RARE CAPITAL RECORDS POSTER
$75.00
SOLD!!!!!!!!!!!!!!GONE!!!!!U MISSED IT!!!!This rare 20"x30" B&W poster, totally 'exemplifys' Mr. S from the 50's.Near perfect condition!!!!!!!!!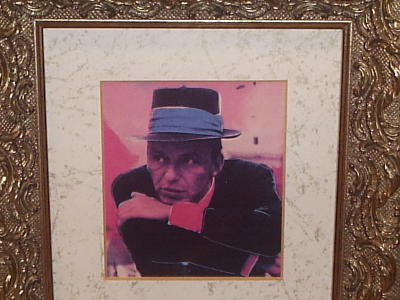 GILDED MOMENT
$50.00
I purchased this at a frame shop. The framer liked the picture and put it in a custom frame 8"x8". Mostly pink and blue in a gold scrolled frame. A real treasure!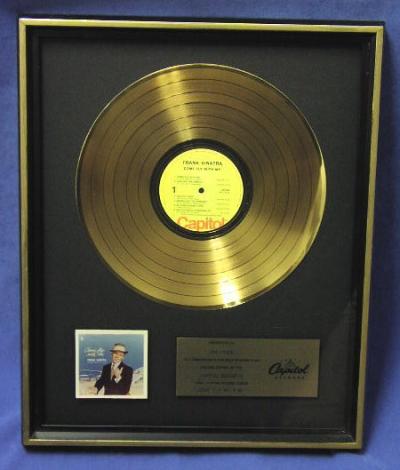 GENUINE INDUSTRY GOLD RECORD "FLY ME TO THE MOON"
$3,500.00 $1,575.00 On Sale!
This is a "GENUINE" gold record, not the 'made up' type that you see at the mall.This one was given out by CAPITAL RECORDS and the music industry. It was given 'only' to the folks that participated in the production of an LP that sold 500,000 copies or more. Back in the day, that was quite an acomplishment. Purchased privatly from estate of recepient of this award. ********CLICK TO VIEW ENGRAVED RECOGNITION BRASS PLATE***********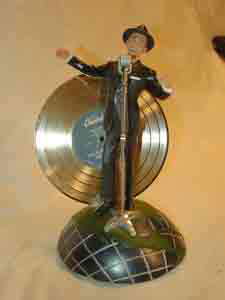 "I'VE GOT THE WORLD ON A STRING" SINGING FIGURE
$155.00 $125.00 On Sale!
By Franklin Mint,I think that this was the neatest of all the singing figures ever done.EVER!Just press the button and listen to Frank sing 'THE' song that defined his place and time!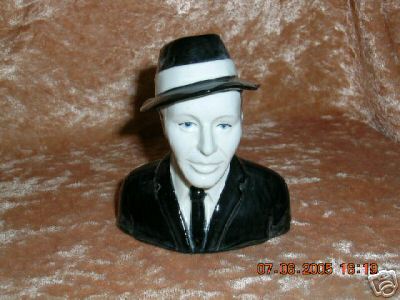 NBC MINATURE BUST
$0.00
SOLD.................[60]This 3 1/2" bust was part of a salt and pepper set (the salt and pepper shaker is also available, in it's intirety, on this page) But the mic (pepper shaker) broke, sorry. It still makes an intersting nic-nac.This was produced in England during the 50's.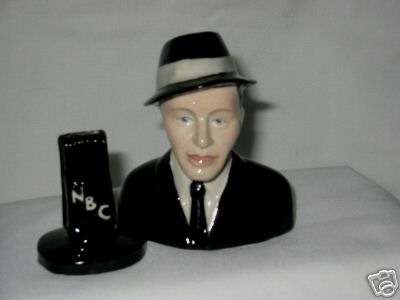 NBC SALT & PEPPER SET
$0.00
SOLD!!!!!!!!!!!!!!!(175)Rare "VINTAGE" limited edition set by EXCALIBUR from "across the Pond". I have only seen one other set like this and it was in a collectors magazine. I think it's from the 50's. Looks great next to the TOBY JUGS "Rat Pack" edition.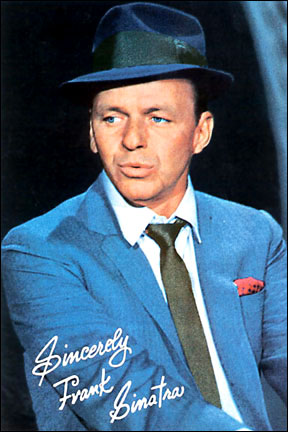 PAL JOEY POST CARD
SOLD OUT!!!!!!!!!!!!!!!!!!!!!!!![19]This brilliant full color post card is in perfect condition. A promotional piece for the movie 'Pal Joey'.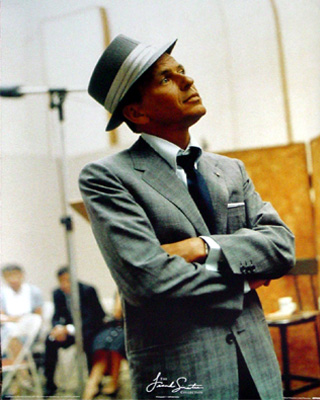 STUDIO POSE 16"x20" POSTER
$25.00
Here is a smaller version of that popular pose from the 50's.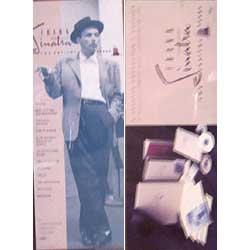 RARE 15'x9" CAPITOL POSTER
$60.00
This rare 2 sided poster (both sides showing)was used in record stors to promote Franks Capitol Years release. I like the pose! That shows Franks 'SWINGING' attitude, that he had back then. And, it totally exemplifies that same feeling with todays swing thing!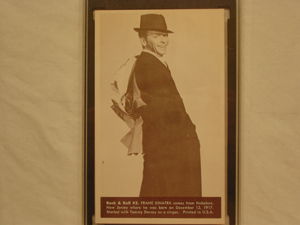 COLLECTOR CARD "MISPRNIT"
$125.00 $55.00 On Sale!
This is not only a rare card (NU-CARD 1961, Rock&Roll #42)It is in MINT condition. But it was recalled due to a type O. It states that Mr. Sinatra was born in 1917. DAANNT! WRONG ANSWER. Did you catch mine? ( 1 left)Apraised at $125!



EARL WILSON COMBO w/ SIGNED COPY
$0.00
SOLD!!!!!!!!!!!!!!!!!!!!!!!!!!!!!!!![55]The black cover is the the book all FRANK fans have. The red cover is for the real FRANKFREAKS. It's an "uncorrected proof" version. It was never intended to get released to the public, the pages are hand numbered. It was printed by CRANE DUPLICATING SERVICES, for the eyese of the proof readers. Like alot of my stuff, "You've never seen this befor".[[[[[[[[[[[[CLICK TO VIEW SIGNATURE]]]]]]]]]]]]]]]]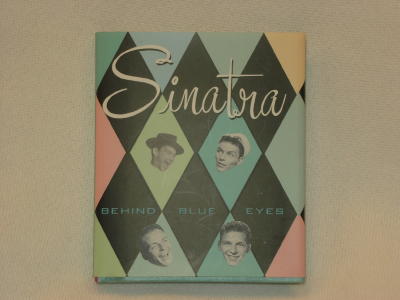 SMALLEST SINATRA BOOK
$25.00 $14.50 On Sale!
"BEHIND BLUE EYES" The smallest book I have[and I've got about 50 of 'em] approx 3"x3" and 80 pages full of unusual antidotes and FRANKISMS. Lots of SINATRASPEAK and all the nicknames that Frank had.You got that, Clyde!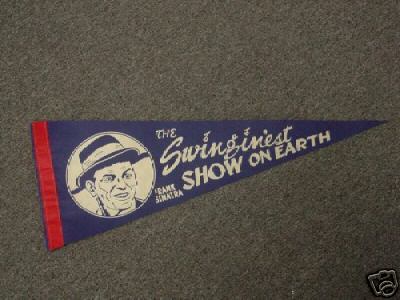 PENNANT (from a 50's show)
$100.00 $75.00 On Sale!
A super RARE collectors item. Back in the day, these were sold at the concession stands at the shows. Now, all you need is the pom-poms tugo wit'dem." GIVE ME AN F"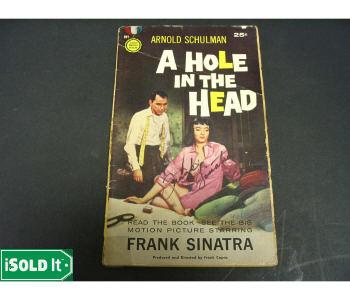 SIGNED "HOLE IN THE HEAD" BOOK
$350.00 $250.00 On Sale!
This is an autographed copy of the book. Frank signed it for the owner of a Beverly Hills resteraunt that was near Frank and Peters place, Puccini's.The book is in good condition. ***********CLICK TO VIEW DETAIL OF SIGNATURE*************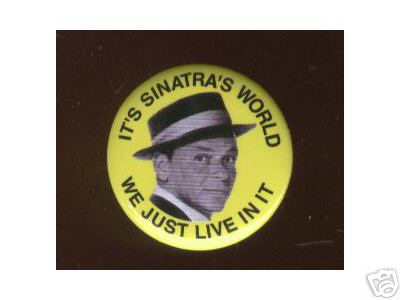 SINATRA'S WORLD-PIN
SOLD OUT!!!!!!!!!!!!!!ALL GONE!!!!!!![19]This was DEANS quote "It's Sinatra's world, we just live in it!" THIS PIN IS PROBABLY THE HARDEST OF ALL TO GET!



TOPPS AMERICAN PIE CARD
$10.00
Not as rare as the card with clothing swatch. But, it's still is a desirable collectable.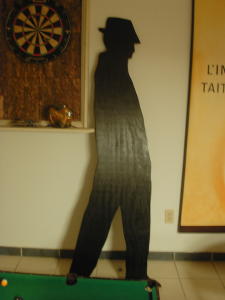 WALL SHADOW
$100.00
This,6 foot wood cutout, used to be mounted in the corner at one of my bars. I had a spot light shinning down with a mic and stool in front of it. Everyone used to take pictures of their friends sitting on the stool.Hey Clyde, it'sa gasser!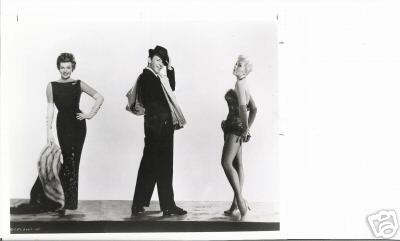 PAL JOEY AD/NEWSPAPER PHOTO
$20.00
SOLD!!!!!!!!!!!!!!!!!!!!!!!!!!!!!!!!!GONE!!!!!!!!!!!!!!!!!!!!!This was THE photo that was sent to the newspapers art department, to create ads for the release of the movie.This shows Frank at the epitome of his image. This is the only photo, and you get the original! No copies.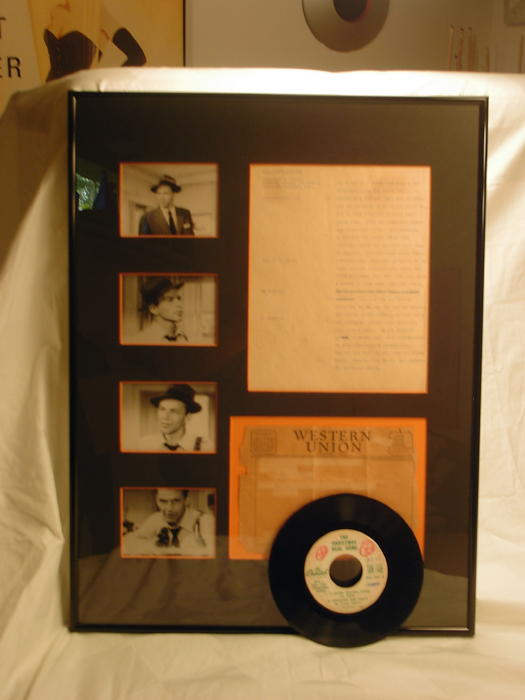 SIGNED CHRISTMAS SEAL SCRIPT WITH RECORD
$1,725.00 $725.00 On Sale!
Autographed script,polaroids from shoot,wire telegram conformation, and "BONUS" rare 45 recording of THE CHRISTMAS SEAL jingle with intro by Frank. All professionally mounted. THIS IS A REALLY RARE PIECE. The 45 was never a release, it was for radio spots, a true collectable on it's own. But they belong togeather.This is the only one of it's kind in the WORLD!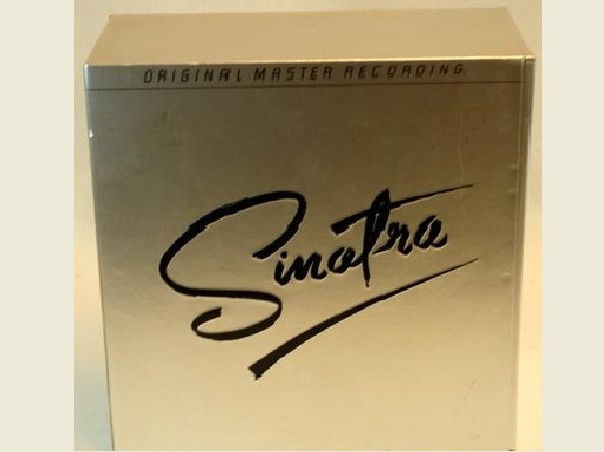 MOBILE FIDELITY SOUND LABS PRESENTS
$650.00 $525.00 On Sale!
LIKE BRAND NEW, NEVER PLAYED!!!! This set was given to the president of the N J Sinatra Society, by Franks office, for an event he did with the great Sid Mark. It has been a treasure of his collection and is now being offerred.****CLICK TO SEE MORE**********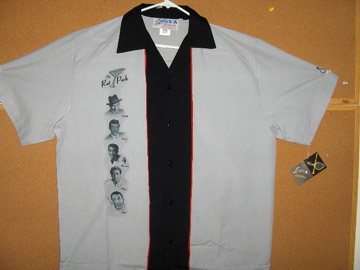 RETRO BOWLING SHIRT X-XL
SOLD!!!!!!!!!!!!!!!!!!!!!!!!!!!!!GONE!!!!!!![50]New with tags. Classic "Rat Pack" images.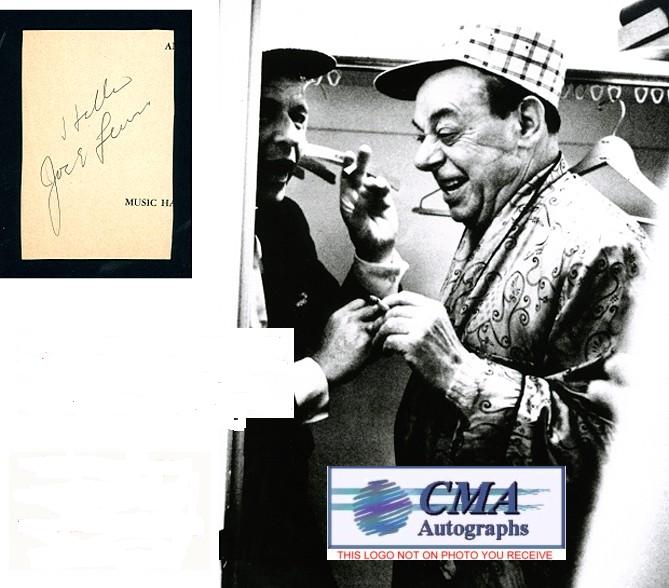 JOE E. LEWIS [PHOTO & SIGNATURE]
$125.00
Here is the guy that the "PACK" got their insperation from. He was also the character that Frank based is movie "JOKER'S WILD" on. Look carefully at this 8x10" photo. Yes, thats Frank.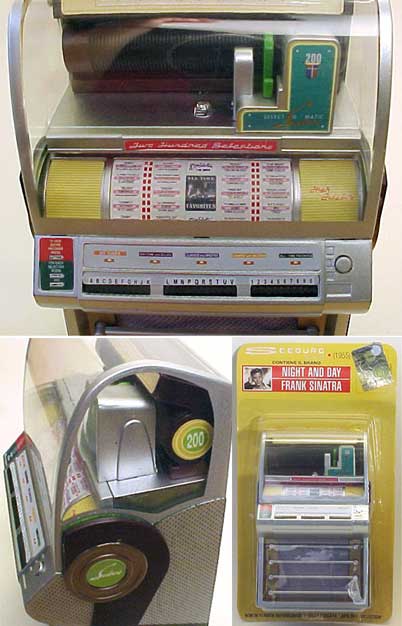 JUKE BOX SEEBURG MINIATURE
$0.01 $120.00 On Sale!
SOLD[[[[[[[[[[[[120]This very rare limited edition of a 1955 Seeburg juke box, plays "Night and Day" by Mr. Sinatra.Not sure of original release date, but it has been discontinued. This is the only one that I have ever come across.



SIGNED CAPITOL RECORD CONTRACT FEB. 3, 1956
$1,500.00 $1,150.00 On Sale!
++++++++click to view larger example+++++++++ THIS IA ORIGINAL LAWYERS COPY. HAND SIGNED BY FRANK